Silver Mexican Pesos Are Beautiful American Alternative to U.S., Canada Silver Dollars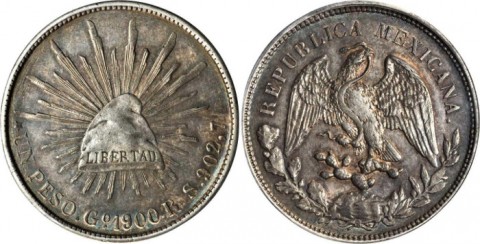 Many hobbyists enjoy collecting classic Morgan and Peace silver dollars from the United States or Canadian silver dollars from the mid 20th century bearing the likenesses of King George V, King George VI, or Queen Elizabeth II. But it seems far fewer coin collectors consider the world crown-sized silver beauties from Mexico. The coins of Mexico should hold a special place in any U.S. coin collector's heart, for it's the earlier coinage of the Latin American nation that once circulated alongside that of our own early Federal money.
The Spanish Pieces of Eight and its fractional parts, along with coins from other nations, served as U.S. legal tender for the first eight decades of our nation's existence, from 1776 through 1857. Mexico would produce other large silver coins in later years, including the silver One Peso coins of the late 19th through mid 20th centuries.
Mexican silver pesos were struck from 1898 through 1967 and are usually collected by hobbyists and included in date sets, world crown sets, and topical collections. These silver Un Peso coins contain various amounts of silver, from 90% silver in the early 1900s to as little as 10% silver in the 1950s and 1960s.
The Different Types Of Mexican One Peso Silver Coins

Over the course of more some seven decades, Mexico produced silver Pesos of several different design types. Here's a rundown on the various types of Mexican One Peso silver coins:
Mexican Radiant Cap Peso (.9027% Silver) – 1898-1909

Mexican Caballito Peso (.9027% Silver) – 1910-1914

Mexican Liberty Cap Peso (80% Silver) – 1918-1919

Mexican Liberty Cap Peso (72% Silver) – 1920-1945

Mexican José Morelos Facing Right (50% Silver) – 1947-1949

Mexican José Morelos Facing Left (30% Silver) – 1950

Mexican Constitution Centennial (10% Silver) – 1957

Mexican José Morelos Facing Right (10% Silver) – 1957-1967
For the most part, circulated silver Peso coins can be bought for a nominal amount over face value. Some Mexican silver One Peso coins are decidedly scarce, and those pieces command substantial premiums. They include:
All Mexican Radiant Cap Peso Coins 1898-1909 - $30+

1911 Caballito Silver Peso – $50+

1912 Caballito Silver Peso – $35+

1914 Caballito Silver Peso – $300+

1918 Liberty Cap Silver Peso – $20

1918/7 Liberty Cap Silver Peso – $250+

1919 Liberty Cap Silver Peso – $16+

1920/10 Liberty Cap Silver Peso – $20+

1933/2 Liberty Cap Silver Peso – $16+

Collecting Mexican Silver Peso Coins

For collectors who wish to build a set of silver One Peso coins, they can choose one of the two usual coin procurement routes: shopping at the local bricks-and-mortar coin dealer or turning to the internet. While Mexican silver coins are indeed a specialized niche area of collecting, surprisingly a large number of traditional dealers stock these numismatic silver coins since they are actively traded for their bullion content. Finding specific dates this way may be hard.
For that reasons, hobbyists may find the offerings online more likely to provide immediate satisfaction. Few Mexican silver One Peso coins are difficult to find in the absolute sense, though there are certainly a handful of issues that can be challenging to track down – those, as one might expect, are mainly the pieces listed individually above among the scarce dates.
Collecting Mexican silver Peso coins can be a fun and rewarding numismatic objective for any hobbyist. Those who study up on these silver peso coins and really get a grasp on the peculiarities of these gorgeous coins are sure to enjoy some good deals, too.
About the author
Joshua McMorrow-Hernandez is a freelance writer and author who has contributed hundreds of online articles and blog posts, as well as published Images of America, Tampa's Carrollwood (Arcadia Publishing, 2013). Joshua is interested in a wide array of topics, and since 1992 has been heavily involved in numismatics, a topic about which he loves to research and write. His main area of focus is 19th and 20th century United States coins, but he also enjoys Canadian coins.