Canadians "Spocking" $5 Bills as Tribute to Star Trek's Leonard Nimoy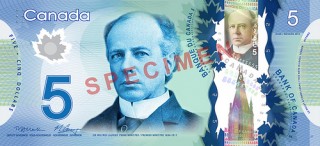 Canadians are taking pen to paper and altering, some would say defacing, their $5 notes as a tribute to Star Trek actor and acclaimed director, poet, and singer Leonard Nimoy, who passed away on February 27 at the age of 83.
The growing trend of drawing pointy ears and blocky brows on the portrait of Canada's seventh prime minister, Sir Wilfrid Laurier, has been dubbed "Spocking." It's even created a hashtag craze, with people hashtagging #Spocking and #SpockingFives and uploading images of their self-made currency tributes to Nimoy.
But the Bank of Canada is not amused and has asked its nation's citizens to stop Spocking their $5 bills. "There are important reasons why it should not be done," says Josianne Menard, Bank of Canada spokeswoman. "Writing on a bank note may interfere with the security features and reduces its lifespan," she remarks. She also comments that drawing on Canadian bank notes is inappropriate because "they are a symbol of our country and a source of national pride."
However, drawing on Canadian currency is not illegal.
So, it looks like at least for now Trekkies in Canada – and anybody else in possession of Canadian $5 bills – will continue Spocking their fives. Live long and prosper…
By accepting you will be accessing a service provided by a third-party external to https://coinvalues.com/