The Effects of the Coronavirus (COVID-19) Crisis on Numismatic and Bullion Coin Values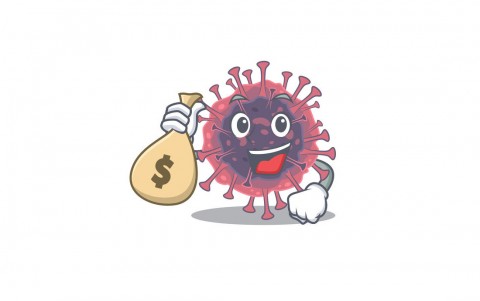 With most of the world on lockdown, financial markets crashing, the economy imploding and serious social consequences on the horizon, it is no surprise that the unprecedented crisis unleashed by COVID-19 is having serious effects on precious metals. While gold and silver futures ride their roller coaster in the paper-traded futures markets, the reality on the ground for numismatic collectors and investors is nothing short of dramatic.
As fights over toilet paper began and long lines formed at gun shops around the US, bullion dealers witnessed stock literally flying off their shelves from panicked buyers. "Volume is up over 10x (in some cases much more) in a matter of days" explains Tarek Saab, CEO of Texas Precious Metals. This is having a profound effect on premiums which in turn is creating extreme volatility in coin values. Supply chain shock is pushing premiums higher on every form of silver and gold bullion and numismatic coins. As our readers are aware, we list reference prices for hundreds of numismatic coins on this website. These prices are monitored and updated manually. Despite normal fluctuations in the gold and silver price, most prices listed in our coin info pages are an accurate picture of a specific coin's worth over a long period of time. However, that has all changed under the current circumstances. Skyrocketing premiums and prices of physical gold and silver have now rendered any reference prices obsolete and attempting to stay on top of prices given the unprecedented demand and continually evolving premiums is futile.
Therefore we would like to remind our readers that, for the time being, you will get a better idea of coin values by looking at our Amazon affiliate widgets posted near the bottom of each coin info page than you will from the general estimations in the article itself. Also don't forget about our silver price and gold price calculators. There you can calculate the melt value of an entire coin collection based on live spot pricing. Just remember that it only calculates the raw worth of the metal content. Due to the current situation your coins in reality are worth much more when premiums and collection value are added to the melt value. Our library also has plenty of informational articles to help out, whether you are looking to buy or sell coins.
Our friends over at Numismatic Database are building an exciting new platform that soon will give us a handy tool to track coin prices in nearly real time. For now, stay safe and happy collecting/investing to our readers!