Tips For Finding 2019 W-Mint Quarters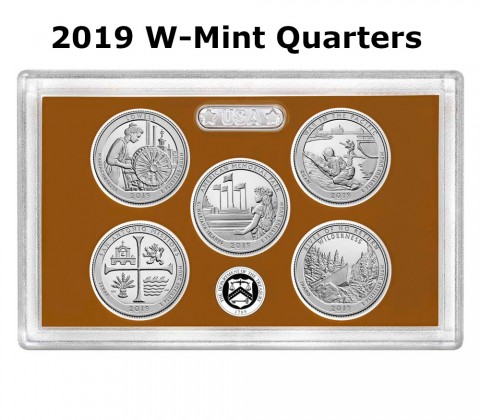 Have you heard about the 2019-W America The Beautiful (ATB) Quarters? These new coins from the West Point facility of the United States Mint total just 10 million in number and have entered mainstream circulation. That means they can turn up just about anywhere – pocket change, coin rolls, even as change from the next vending machine you use. And while these new 2019-W quarters can be found in the places that other circulating coins would normally appear, many collectors are having a tough time finding these scarce ATB Quarters. In many cases, collectors have been trying for months to find even one and haven't found a single one.
What's a collector who wants to find a 2019-W ATB Quarter to do? Here are some tips for finding these new quarters.
One of the best ways to score a new 2019-W ATB Quarter is to look through rolls of new quarters – this is where many collectors have reported the best luck in picking up the new quarters. While you can buy new rolls of quarters anywhere, your best bet is to seek them from your local financial institution, such as a bank – especially regional banks. The major financial institutions are the ones that are among the first to receive the 2019-W quarters mixed into rolls of P-mint and D-mint quarters from the United States Mint. However, you can find rolls at various places, such as grocery stores, big-box department stores, and convenience stores.
Don't Forget Bags & Boxes
While rolls are profitable for change searchers, box and bag quantities of new quarters have proven even more successful. While it's possible to buy individual rolls at an array of establishments, banks are usually the only source of quarters in bag and box quantities. While an individual roll contains 40 coins or $10 in quarters, a box normally contains 50 rolls or $500 in quarters, while boxes provide 100 rolls, or $1,000 in quarters. The biggest benefit of buying a bag or box over a single roll, or single rolls, is improving your odds of finding a 2019-W quarter by way of putting more quarters in front of you at a single time.
Sure, rolls, bags, and boxes are excellent sources for new quarters. But you don't have to spend hundreds of dollars to land a new 2019-W quarter. Many people have found their first 2019-W quarters simply looking through the change they receive in cash transactions. It's even how Desperate Housewives actor Shawn Pyfrom found his. You've got to have an eagle eye and check every quarter that goes through your hands.
Why Are W Quarters Worth Looking For?
With a total of 10 million 2019-W Mint quarters being struck for the five 2019 ATB quarters, that boils down to just 2 million per design, including those honoring Lowell National Historical Park Quarter in Massachusetts, American Memorial Park in Northern Mariana Islands, War in the Pacific National Historical Park in Guam, San Antonio Missions National Historical Park in Texas, and Frank Church River of No Return Wilderness in Idaho. With mintages of just 2 million per design, the 2019-W quarters become the scarcest circulating quarters since the 1937-S Washington quarter.
Because they're so scarce, 2019-W quarters are worth significantly more than their face value. Most are trade for between $10 and $20 in typical uncirculated condition. And throughout the remainder of 2019, some third-party coin grading firms and coin dealers will be offering huge rewards for the first example of each type of 2019-W quarter to walk through their door. Most notably, Professional Coin Grading Service (PCGS) will be offering as much as $2,000 to the person who submits to them the first example of a Frank Church River of No Return Wilderness Idaho ATB Quarter.
About the author
Joshua McMorrow-Hernandez is a freelance writer and author who has contributed hundreds of online articles and blog posts, as well as published Images of America, Tampa's Carrollwood (Arcadia Publishing, 2013). Joshua is interested in a wide array of topics, and since 1992 has been heavily involved in numismatics, a topic about which he loves to research and write. His main area of focus is 19th and 20th century United States coins, but he also enjoys Canadian coins.