Top 25 Most Valuable Morgan Silver Dollars Sold on eBay in August 2015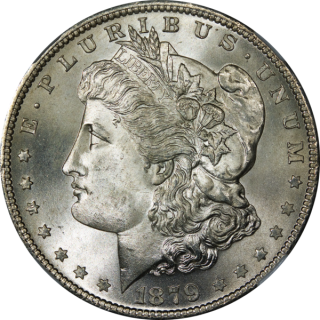 The 25 most valuable Morgan silver dollars that sold on eBay in August 2015 include a variety of extremely scarce and high-grade specimens that are in demand among both coin collectors and coin investors. Amazingly, one of these coins sold for nearly $30,000, and three coins topped $20,000!
The top-selling Morgan silver dollars in August were the usual key dates, but also a number of the heavy hitters that sold on eBay were MS-65+ silver dollars with terrific eye appeal. For the most part, these coins represent the crème de la crème of the Morgan silver dollar market.
Before breaking down the coins that sold on eBay, here's a primer of some of the abbreviations and acronyms that will appear below:
ANACS – American Numismatic Association Certification Service
CAC – Certified Acceptance Corporation
DMPL – Deep-Mirror Proof Like
GSA – General Services Administration (sold hundreds of thousands of silver dollars to the public from hoards in the 1970s)
NGC – Numismatic Guaranty Corporation
NNC – National Numismatic Certification
PCGS – Professional Coin Grading Service
Here is a rundown of the Top 25 most valuable Morgan silver dollars that were sold on eBay in August 2015:
#1 – 1880-S Morgan Dollar NGC MS69 – $27,000.00
At this point, NGC lists a tiny population of just 5 1880-S Morgan dollars grading Mint State-69, with none grading higher. MS-69 Morgan dollars simply don't pop up for sale very often, and when they do they excite the buying public, making it relatively easy to find somebody who will pay more than $25,000 just for the privilege to own one.
#2 – 1878-CC Morgan Dollar NGC MS-67 – $25,795.00
1878-CC Morgan dollars are difficult to find in the higher mint state grades, but this one represents the very finest of the 1878-CC Morgan dollars. At a grade of MS-67, this blast-white beauty is certainly a registry set winner.
#3 – 1893-S Morgan Dollar ANACS AU-55 – $22,495.00
1893-S Morgan silver dollars are rare and sought after in any grade, but this beauty is about as good as it gets when it comes to circulated specimens. This AU-55 1893-S Morgan dollar exhibits beautiful surfaces, nice tone, and minimal rub. A mere 100,000 pieces were minted and far fewer survive in any grade today, meaning only a relative handful in high grades such as AU-55 still exist today.
#4 – 1901 Morgan Dollar PCGS Proof-66 CAC Designated - $9,945.00
It's not too often that a proof Morgan silver dollar comes up in these top 25 lists, but here's a beautiful proof specimen that would look right at home in any high-end coin collection. Only 813 proof Morgan dollars were made in 1901, and far fewer survive today. PCGS population estimates reflect just 15 in the grade of Proof-66, and even fewer in this grade have the coveted CAC designation.
#5 – 1893-CC Morgan Dollar PCGS MS-63 – $9,025.00
Here's yet another rare Morgan dollar, with this being the virtually elusive 1893-CC Morgan dollar key date. While PCGS reports 1,082 1893-CC Morgan dollars in this grade, one has to remember how many millions of coin collectors want this specific Morgan dollar issue, thus the demand far outstrips the relatively tiny supply.
#6 – 1879-CC Morgan Dollar GSA NGC MS-63 – $8,495.00
This 1879-CC Morgan silver dollar is still encased within its GSA holder and even comes with its certificate of authenticity and original box. The major grading firms now grade GSA dollars in their original cases from the 1970s era, giving an extra premium to these sought-after Carson City silver dollars.
#7 – 1879-CC Morgan Dollar NGC MS-63 – $7,500.00
This 1879-CC Morgan dollar, which also grades MS-63 according to NGC, is really a great example of the type of premium placed on GSA packaging. Yes, this coin might look just as beautiful as the GSA dollar above, but the collector appeal for the government packaging has helped give the 1879-CC Morgan dollar in the #6 spot above a $1,000 premium in price.
#8 – 1893-S Morgan Dollar NNC AU-55 – $6,901.59
Why is there a more than $15,000 difference between this 1893-S AU-55 Morgan dollar and the one listed way up above in the #3 spot? Likely, it has to do with the grading firm that awarded the grade. While ANACS is a highly reputable third-party coin grading company, NNC simply doesn't have that same following at this time. Grading standards between the two companies may also be different, thus keeping the price for this "AU-55" much lower than if this same coin received that same grade from another, more popular certification company.
Tied for #9 – 1893-S Morgan Dollar PCGS VF-25 – $6,000.00
This 1893-S Morgan dollar has been graded VF-25 by PCGS, which many numismatists claim has some of the strictest grading standards today among coin certification firms. Even at the moderately circulated grade point of VF-25, the 1893-S Morgan dollar is a rarity that enjoys high demand.
Tied for #9 – 1878-CC Morgan Dollar NGC MS-66 - $6,000.00
Tied for the ninth spot is this flashy, white 1878-CC Morgan dollar. As early Carson City Morgan dollars go, this one is a scarce find in the high grade of MS-66, and its $6,000 final bid makes it an expensive but worthwhile addition to any fine coin collection.
What follows are the coins that rank from 11th through 25th most expensive on the list of top 25 most valuable Morgan dollars that were sold on eBay in August 2015. The following 15 coins include several Carson City issues, a couple with proof-like surfaces, and a couple more GSA dollars.
#11 – 1890-CC Morgan Dollar GSA NGC MS-63 – $5,952.00
#12 – 1904-S Morgan Dollar NGC MS-64 – $5,950.00
#13 – 1880-S Morgan Dollar PCGS MS-68 CAC Designated - $4,913.00
#14 – 1893-S Morgan Dollar NGC VF-25 – $4,850.00
#15 – 1891-CC Morgan Dollar GSA NGC MS-63 – $4,800.00
#16 – 1891 Morgan Dollar PCGS MS-65 – $4,719.00
#17 – 1893-CC Morgan Dollar ANACS MS-61 – $4,680.00
#18 – 1891-O Morgan Dollar PCGS MS-65 – $4,575.00
#19 – 1893-S Morgan Dollar PCGS VF-20 – $4,505.00
#20 – 1893-S Morgan Dollar PCGS VF-20 – $4,400.00
#21 – 1891-CC Morgan Dollar PCGS MS-65 - $4,300.00
#22 – 1921-D Morgan Dollar PCGS MS-66+ CAC Designated – $4,284.00
#23 – 1890-CC Morgan Dollar GSA NGC MS-62 – $4,100.00
#24 – 1889-CC Morgan Dollar NNC MS-62 Proof-Like – $4,039.99
#25 – 1888-O Morgan Dollar PCGS MS-65 DMPL - $4,000.00
By accepting you will be accessing a service provided by a third-party external to https://coinvalues.com/