Top 25 Most Valuable Morgan Silver Dollars Sold on eBay for July 2015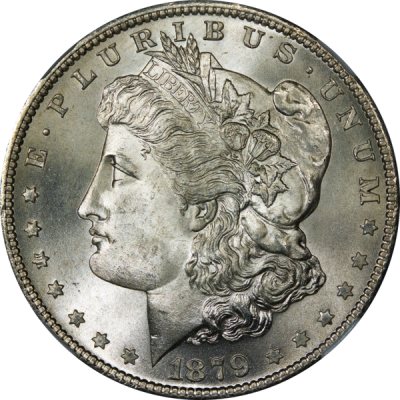 Four of the most expensive Morgan silver dollars to sell on eBay in July 2015 cost more than $10,000 – no surprise given the tremendous popularity of silver dollars with coin collectors and coin investors. This is especially true in the case of the Morgan dollar, which is a long-running series that first started in 1878 and wrapped up in 1921.
There are several acronyms that Morgan silver dollar collectors use when discussing grading services, grades, and other aspects of the series. Here's a rundown of some of these acronyms, which you will find in this rundown of the most valuable Morgan dollars sold on eBay:
ANACS – American Numismatic Association Certification Service third-party coin grading
CAC -- Certified Acceptance Corporation, which places labels on the slabs of coins that look especially nice for their grade
DMPL – Deep Mirror Proof Like, or a Morgan dollar with highly reflective surfaces; such a specimen, however, is not a proof coin
GSA – General Services Administration, the government agency that sold hundreds of thousands of silver dollars in a massive sale during the 1970s and early 1980s
ICG – Independent Coin Graders third-party certification service
NGC – Numismatic Guaranty Corporation third-party certification service
PCGS – Professional Coin Grading Service third-party coin grading company
What follows is a look at the most valuable Morgan silver dollars sold on eBay in July 2015:
#1 – 1893-CC PCGS MS-64 Morgan Silver Dollar, $16,995.00
The 1893-CC Morgan silver dollar is one of the scarcest issues in the series, with only 677,0000 made. While all specimens of this issue are considered very difficult to locate, frosty white examples such as this piece are especially scarce and command strong premiums.
#2 – 1889-CC NGC AU-58 Morgan Silver Dollar, $16,750.00
1889-CC Morgan silver dollars are exceedingly scarce, as only 350,000 were struck and far fewer exist today. Demand is particularly strong for lightly circulated examples such as this 1889-CC dollar.
#3 – 1884-CC NGC MS-67 CAC Designated Morgan Silver Dollar, $10,618.84
This GSA dollar has been graded by the NGC yet remains in its original government plastic as issued during the 1970s-era silver dollar sale. While all Carson City Morgan dollars enjoy strong demand, those still in their GSA holders command an extra premium.
#4 – 1880 8/7 Overdate NGC MS-61 Morgan Silver Dollar, $10,500.00
Morgan dollar series enthusiasts enjoy specializing in not just the date and mintmark combinations but also die varieties. These die varieties, called VAMs (named for silver dollar book authors Leroy Van Allen and A. George Mallis), are often collected on their own. In this case, a so-called "ears only" die variety with 8/7 overdate was sold, one of just two known such pieces in a grade of uncirculated.
#5 – 1889-CC PCGS AU-53 Morgan Silver Dollar, $9,350.00
The 1889-CC Morgan dollar is indeed a rare date, especially in the lightly circulated grade levels. This piece, which sold for well more than $9,000, would make a great addition to any high-end Morgan silver dollar coin collection.
#6 – 1889-CC PCGS AU-50 Morgan Silver Dollar, $8,500.00
The only real difference between this 1889-CC Morgan dollar and the one listed just above is three grading points, which, in the realm of rare Morgan dollars, can mean a spread in price of several hundred dollars or more. Still, at "just" AU-50 this 1889-CC Morgan silver dollar is arguable just as desirable as one listed at a slightly higher grading threshold.
#7 (Tied) 1879-CC PCGS MS-63 Morgan Silver Dollar, $7,500.00
This frosty white Morgan silver dollar has beautiful surfaces and fantastic overall eye appeal, making it a terrific acquisition for any die-hard series enthusiast. All Carson City Morgan dollars are sought after, but uncirculated CC-mint coins are particularly scarce, which is the case with this 1879-CC silver dollar.
#7 (Tied) 1879-CC NGC MS-61 Morgan Silver Dollar, $7,500.00
While this is a lower-grade 1879-CC Morgan dollar, there is one likely reason why it sold for more than the piece listed above – the fact that this coin is still in its GSA holder. When it comes to CC Morgan dollars, GSA coins will almost always perform better than their raw counterparts.
#9 – 1893 PCGS MS-65 Morgan Silver Dollar, $6,600.00
This better-date Morgan silver dollar is a tough find in a grade of MS-65. All 1893 Morgan dollars (Philadelphia, Carson City, New Orleans, and San Francisco) are scarce, though the Philadelphia issue, listed here, is by far the most relatively common of these.
#10 – 1893 PCGS MS-65 Morgan Silver Dollar, $6,499.00
This list wraps up with another Philadelphia Mint 1893 Morgan dollar in the same grade and certified by the same third-party coin grading service (PCGS) as the one above. While there's a price difference of $100, it's possible that is due to minor surface quality variances between the two Morgan dollars.
11th Through 25th Most Valuable Morgan Dollars Sold on eBay in July 2015
Here is the rest of the top 25 most valuable Morgan dollars, listed from 11th through 25th most expensive. Unsurprisingly, most of the pieces listed here are scarce dates and Carson City issues:
#11 – 1889-CC ANACS AU-58 Details Morgan Silver Dollar, $6,000.00
#12 – 1893-S PCGS VF-30 Morgan Silver Dollar, $5,900.00
#13 – 1893-S PCGS VF-25 Morgan Silver Dollar, $5,400.00
#14 – 1878 8 Tail Feathers VAM 14 PCGS AU-53 Morgan Silver Dollar, $5,200.00
#15 – 1880/79-CC Reverse of 1878 PCGS MS-66 DMPL Morgan Silver Dollar, $5,000.00
#16 – 1882-CC PCGS MS-66 DMPL, $4,995.00
#17 – 1893-CC PCGS MS-62 Morgan Silver Dollar, $4,750.00
#18 – 1889-O PCGS MS-65 Morgan Silver Dollar, $4,656.68
#19 – 1881-CC NGC MS-67 Morgan Silver Dollar, $4,495.00
#20 – 1890 PCGS MS-65+ Morgan Silver Dollar, $4,299.00
#21 – 1895-S Morgan Silver Dollar Raw Uncirculated, $4,050.00
#22 – 1889-CC ICG AU-50 Morgan Silver Dollar, $4,000.00
#23 – 1893-S NGC F-12 Morgan Silver Dollar, $3,960.00
#24 – 1890-CC NGC MS-60 GSA Morgan Silver Dollar, $3,895.00
#25 – 1893-S PCGS VF Details Morgan Silver Dollar, $3,510.00
About the author
Joshua McMorrow-Hernandez is a freelance writer and author who has contributed hundreds of online articles and blog posts, as well as published Images of America, Tampa's Carrollwood (Arcadia Publishing, 2013). Joshua is interested in a wide array of topics, and since 1992 has been heavily involved in numismatics, a topic about which he loves to research and write. His main area of focus is 19th and 20th century United States coins, but he also enjoys Canadian coins.