Top 25 Most Valuable Morgan Silver Dollars Sold on eBay in June 2015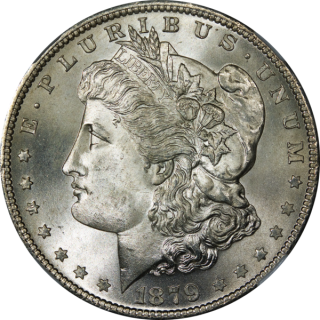 Morgan silver dollars are one of the most popular U.S. collector coins around, which is a fact made evident in this list of the top 25 most valuable Morgan dollars that were sold on eBay in June 2015. The most expensive Morgan dollar on this list traded hands for more than $12,000 – a large sum of money for any coin.
In the case of Morgan silver dollars, it's not surprising to see the rare key-dates sell for four-digit figures. In fact, scarcely has any Morgan dollar on our top 25 most valuable coin list ever sold for under $2,000-3,000. That's the case with this set of coins, all of which had little trouble selling for more than $3,500 each on eBay.
ANACS – American Numismatic Association Certification Service
BU – Brilliant Uncirculated
CC – Carson City (Mint)
NGC – Numismatic Guaranty Corporation
NNC – National Numismatic Certification
O – New Orleans (Mint)
PCGS – Professional Coin Grading Service
S – San Francisco (Mint)
For information about coin grades, please be sure to check out our grading page.
Here's a rundown of the top 25 most valuable Morgan dollars that were sold on eBay in June 2015:


#1 – 1893-CC PCGS MS-64 Morgan Dollar, $12,225.00
With a mintage of 677,000 pieces and a much smaller population today, the 1893-CC Morgan dollar is a scarce coin that silver dollar collectors love pursuing. It's also one of the top key dates of the Morgan dollar series and is certainly a desirable coin in a grade of MS-64.


#2 – 1893-S PCGS XF-45 Morgan Dollar, $10,013.00
A mere 100,000 1893-S Morgan dollars were minted, and, as is the case with its 1893-CC sibling, is a scarce key date coin today. In fact, all 1893-dated Morgan dollars are scarce, but of the four issues from that year (1893 Philadelphia, 1893-CC, 1893-O, and 1893-S) the 1893-CC and 1893-S are by far the rarest.


#3 – 1893-S PCGS AU Details Morgan Dollar, $10,000
Let's face it, the 1893-S Morgan dollar is such a scarce coin that even cleaned specimens, like this one, are still considered desirable by numismatists. It's possible that, given its relatively high wear-based grade alone, the buyer of this coin saved at least $1,500 buying this cleaned specimen versus a similarly graded 1893-S AU Morgan dollar.


#4 – 1893-S PCGS XF-40 Morgan Dollar, $8,849.00
Yet another 1893-S Morgan dollar appears on this list. Of course, what that means is that the 1893-S may be a sought-after coin, but it isn't necessarily a rare coin in terms of overall availability alone. This XF-40 specimen, however, is particularly nice.


#5 – 1879-CC GSA PCGS MS-62+ Morgan Dollar, $6,350.00
Morgan dollar coin collectors love Carson City (CC) issues. All Carson City Morgan dollars are scarce, and that's certainly the case with uncirculated 1879-CC Morgan dollar.


#6 – 1893-S PCGS VF-35 Morgan Dollar, $6,150.00
A remarkable 10, yes 10, 1893-S Morgan dollars appear on this list of the top 25 most valuable Morgan dollars sold on eBay in June 2015. So, while they aren't necessarily rare, they are still coins that enjoy much more demand than their population figures can satisfy. This 1893-S is a solid, problem-free Very Fine specimen that would look right at home in any premium-quality Morgan dollar collection.

#7 – 1893-S PCGS AU Details Morgan Dollar, $6,125.00
The problem with many Morgan silver dollars is that they have been cleaned, some of them harshly so. This 1893-S Morgan dollar has plenty of details, but is lacking on the luster, causing the negative bump in price.


#8 – 1893-S NNC AU-58 Morgan Dollar, $6,125.00
While this 1893-S is certified as an AU-58, it also is in a slab from a less-popular coin-grading firm. While the NNC grading standards may call for this coin to be slabbed as an AU-58, this coin might not qualify for that same grade from a more conservative certification service such as PCGS. Regardless what holder a coin is in, it's important for coin buyers to evaluate not the grade listed on the slab but, rather, the apparent grade of the coin inside the sonically sealed plastic.

#9 – 1890-CC Circulated Morgan Dollar, $6,100.00
This raw, cleaned 1890-CC Morgan dollar may have a few minor issues, but that didn't stop one dedicated Morgan dollar enthusiast from adding it to his or her coin collection. All Carson City Morgan dollars are considered scarce, desirable collectibles, even cleaned specimens such as this one.


#10 – 1891 PCGS MS-65 Morgan Dollar, $5,299.00
The last of the top 10 most valuable Morgan dollars on this list, this stunning 1891 Morgan dollar pulled in more than $5,000 for its seller. The blast-white surfaces, strong strike, and amazing overall eye appeal make this coin a prize for any numismatist.

The 11th Through 25th Most Valuable Morgan Dollars Sold On eBay In June 2015
The last 15 coins on this list brought in between $3,800 and $5,200 each, making them impressive acquisitions in every case. The list includes the usual litany of scarce key-date Morgan dollars along with several high-grading representatives of more common issues.
#11 – 1893-S ANACS EF-40 Details Morgan Dollar, $5,107.67
#12 – 1879-CC ICGS MS-63 Morgan Dollar, $4,950.00
#13 – 1893-S PCGS XF Details Morgan Dollar, $4,851.01
#14 – 1892-S Ungraded Morgan Dollar, $4,500.00
#15 – 1893-S PCGS XF-40 Morgan Dollar, $4,404.00
#16 – 1889-CC PCGS XF-45 Morgan Dollar, $4,350.00
#17 – 1893-CC ANACS MS-62 Morgan Dollar, $4,176.00
#18 – 1890-CC Uncirculated GSA Morgan Dollar, $4,152.52
#19 – 1893-S PCGS XF Details Morgan Dollar, $4,151.00
#20 – 1879-CC NGC MS-61 Morgan Dollar, $4,050.00
T. #21 – 1889-CC PCGS AU-53 Morgan Dollar, $4,000.00
T. #21 – 1895-S PCGS MS-61 Morgan Dollar, $4,000.00
#23 – 1884-S BU Morgan Dollar, $3,950.00
#24 – 1895-O NGC AU-58 Morgan Dollar, $3,937.87
#25 – 1889-CC PCGS XF-45 Morgan Dollar, $3,850.00
By accepting you will be accessing a service provided by a third-party external to https://coinvalues.com/