United States Liberty Seated Coins Appeal To Type Collectors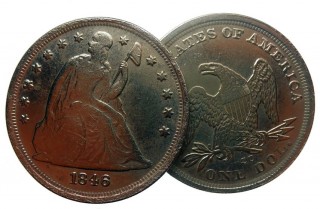 Liberty Seated coins are among the most widely recognized coinage of the mid 1800s, a period when U.S. coin production ramped up and a variety of denominations were in production, including the half dime, dime, 20 cent piece, quarter, half dollar, and dollar. The Liberty Seated design was seen on the reverse of all of those denominations during the 1800s.
United States Mint Chief Engraver designed the Liberty Seated motif in the late 1830s, which is when the design began appearing on silver coinage. A variation of the Liberty Seated design was pattered by William Barber in 1875, who served the role of U.S. Mint Chief Engraver many years after Gobrecht had passed away.

All Liberty Seated coins are collectible and worth much more than face value. Generally speaking, Liberty Seated silver dollars are the scarcest of the Gobrecht coins. Even the most common Liberty Seated silver dollar is worth hundreds of dollars in well-worn condition, and these coins are very difficult to find in original, undamaged condition.

The least expensive examples of Liberty Seated coins are found within the half dimes and dimes. Low-grade common dates can be bought for less than $20 each, while quarters and half dollars start at around $30 and up for low-end circulated pieces. The 20 cent piece, struck from 1875 through 1878, costs more than $100 in well-circulated grades.

The last Liberty Seated coins were struck in 1891 and include the dime, quarter, and half dollar. The Liberty Seated half dime and dollar coins were retired in 1873. Most coin collectors regard Liberty Seated coinage as type coins and don't usually pursue them by date and mintmark, as is typical with more modern coins.

There are several die varieties counted among each of the Liberty Seated denominations. For example, among the Liberty Seated dimes, there at least five distinct varieties, including: Variety 1 No Stars on the Obverse (1837-1838), Variety 2 Stars on the Obverse (1838-1853), Variety 3 Arrows at Date (1853-1855), Variety 4 Legend on Obverse (1860-1873), and Variety 5 Arrows at Date (1873-1874); some coin collectors count the resumption of Variety 2 with weight standard of Variety 3 (1856-1860) and Variety 4 with weight standard of Variety 5 (1875-1891) as separate varieties.

Collecting each and every date and mintmark combination is virtually impossible for most coin collectors. With the exception of the half dime, every Liberty Seated series, including the 20 Cent coin, has at least one issue that costs five-figures or more even in low, circulated grades. Still, many Liberty Seated coins are quite affordable even for budget-conscious coin collectors, making these classic coins perfect for nearly any numismatist.

By accepting you will be accessing a service provided by a third-party external to https://coinvalues.com/