United States Mint To Release Pink Gold, Other Breast Cancer Commemorative Coins in 2018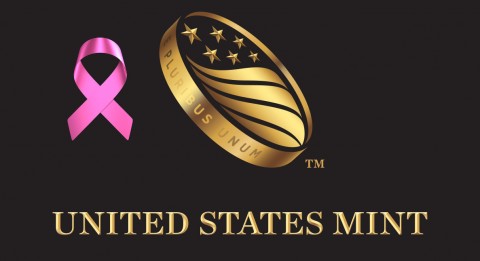 The United States Mint will unveil the Breast Cancer Awareness Commemorative Coin Program in 2018, which will include a pink gold $5 coin, silver dollar, and copper-nickel clad half-dollar. While the copper-nickel clad half-dollar and 90 percent silver dollar will feature standard metallic compositions for their respective types, the gold $5 coin will boast a unique "pink gold" alloy.
The United States Mint says the gold composition of the $5 coin will be "not less" than 75 percent gold, though the specific compositional outlook for the coin varies based on how deep a reddish hue Mint officials want to achieve with the coin. Pink gold is produced using a 75 percent gold, 20 percent copper, 5 percent silver composition; meanwhile, rose gold, which is widely employed in the jewelry industry, is made from a composition consisting of 75 percent gold, 22.25 percent copper, 2.75 percent silver alloy.

While the 2018 $5 breast cancer gold coin will not be a traditional gold coin from the perspective of United States numismatics, it will nonetheless pay homage to breast cancer patients and the efforts to eradicate the disease, which was diagnosed in more than 230,000 American women in 2015. Some of the funds derived from the sale of the 2018 Breast Cancer Awareness coins will be provided to the Breast Cancer Research Foundation in the form of surcharges. These surcharges are $35 for each $5 gold coin, $10 for every silver dollar, and $5 from the sale of each half-dollar coin.

The designs of the 2018 breast cancer coins will be determined in a public competition that will open in late summer 2016. While Mint officials have not specifically spelled out what designs they want to see on the coins, Mint spokespeople have requested the submitted designs be "emblematic" of the effort in raising awareness of and fighting against breast cancer.

While these 2018 breast cancer coins will be the first such pieces in the United States devoted to the cause, others have been minted elsewhere in the past to help raise awareness of the disease. In 2006, the Royal Canadian Mint issued the 25-Cent Pink Ribbon Coin, which features a colorized version of the pink ribbon that is recognized around the world as a symbol of hope and support for those who have been affected by breast cancer. The colorized 2006 Canadian Pink Ribbon quarters have long since become popular mementos among those who support the cause against breast cancer.

About the author
Joshua McMorrow-Hernandez is a freelance writer and author who has contributed hundreds of online articles and blog posts, as well as published Images of America, Tampa's Carrollwood (Arcadia Publishing, 2013). Joshua is interested in a wide array of topics, and since 1992 has been heavily involved in numismatics, a topic about which he loves to research and write. His main area of focus is 19th and 20th century United States coins, but he also enjoys Canadian coins.