U.S. Mint Announces 2015 Silver Eagle Re-Release Date As Silver, Gold Prices Continue Slipping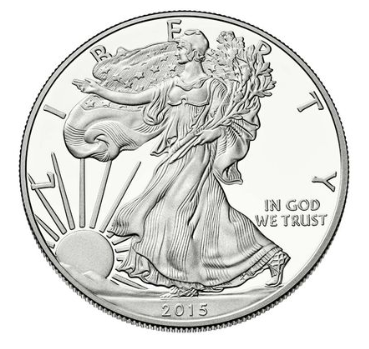 The U.S. Mint, which recently sold out of the very popular American Silver Eagles, is set to resume sales of the 2015 silver bullion coins on July 27. But here's the big question -- what might the silver market look like a week from now? Silver and gold prices continue stumbling, following a trend that the bullion market has been watching since at least last fall.
Yesterday, gold dipped below $1,100, marking the first time gold has been that low in price in more than five years. Meanwhile, silver bullion prices hover at or just below $15, making the white metal the cheapest it has been in about five years as well.
What does this mean for bullion investors? For those who are looking to buy, the prices haven't looked this tempting in about half a decade. But does that mean now is the time to buy?
The first major buying rush as of late came last September, when silver and gold were selling for about $17.50 and $1,200 an ounce, respectively. Surely, many investors thought that was the time to pounce, before, they assumed, bullion prices would go back through the ceiling. Several downward-trending undulations in price later, bullion investors find themselves with silver and gold prices that may continue heading even lower.
How low will bullion prices go? Might silver dip below $10? Could gold be bought for less than $1,000 an ounce sometime soon? Certainly we at Coin Values don't have the answers to those questions, and you should be wary of anybody who claims to know.
Stay tuned…
About the author
Joshua McMorrow-Hernandez is a freelance writer and author who has contributed hundreds of online articles and blog posts, as well as published Images of America, Tampa's Carrollwood (Arcadia Publishing, 2013). Joshua is interested in a wide array of topics, and since 1992 has been heavily involved in numismatics, a topic about which he loves to research and write. His main area of focus is 19th and 20th century United States coins, but he also enjoys Canadian coins.