Vienna Philharmonic Coins Drum Up Bullion Investors, Collectors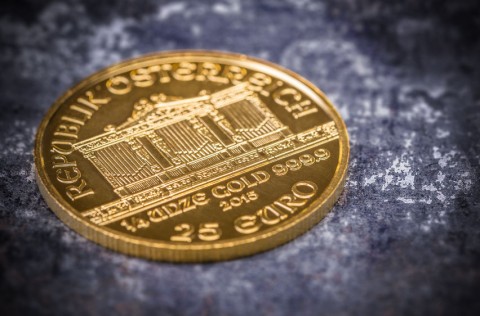 Vienna Philharmonic coins are gold, silver, and platinum bullion coins that are struck by the Austrian Mint and sold to metals investors and coin collectors around the world. The bullion coins, which were first introduced in 1989, carry design themes inspired by the Vienna Philharmonic orchestra (Wiener Philharmoniker).
On the obverse of the Philharmonic bullion coins is a Musikverein pipe organ, and on the reverse is an ornate array of orchestra instruments, including a Vienna horn, harp, bassoon, and a fanned arrangement of four violins anchored by a cello. Both the obverse and reverse designs of the coins were created by Austrian Mint Chief Engraver Thomas Pesendorfer.

The Philharmonic coins feature a 0.9999-fine gold composition, also known as 24-carat gold. The 1-ounce and 1/4-ounce Philharmonic gold coins were introduced on October 10, 1989. The 1/10-ounce gold coin was released in 1991, and the 1/2-ounce gold coin was unveiled in 1994. A 1/25-ounce Philharmonic gold coin was released in 2014.

The Vienna Philharmonic gold coins were the best-selling coins in Europe in 1990, and by 1992, the World Gold Council declared Philharmonics the best-selling gold coins in the world. The World Gold Council crowned the Philharmonic gold coins the best-selling in the world again in 1995, 1996, and 2000.

In 2008, a 1-ounce silver Philharmonic coin joined the gold coin lineup. The silver Philharmonic coin is made from a 99.9 percent fine silver composition and, like its gold counterparts, is widely traded on the global market and is one of the most popular silver bullion coins in the world.

In 2016, a 1-ounce platinum Philharmonic coin was released with a €100 face value, just like its 1-ounce gold counterpart. While Philharmonic gold, silver, and platinum bullion coinage are legal tender coinage monetized as Euros, these coins are legal tender only in Austria, not within the entire Eurozone as standard for most Euro coins.

One of the world's largest coins is none other than a 1,000-ounce gold bullion coin known affectionately as "Big Phil," a coin released in 2004 for the 15th anniversary of the series. The coin is 37 centimeters in diameter and 2 centimeters thick, measurements that are 10 times the 1-ounce coin's ordinary size. 15 of these Big Phil coins were made, each bearing a nominal face value of €100,000.

In addition to the 1,000-ounce Philharmonic gold coin, a 20-ounce Philharmonic gold coin was produced in 2009 for the series' 20th anniversary. 6,027 were made, allocating 2,009 for the European market, 2,009 for the Japanese buyers, and 2,009 for United States collectors.

About the author
Joshua McMorrow-Hernandez is a freelance writer and author who has contributed hundreds of online articles and blog posts, as well as published Images of America, Tampa's Carrollwood (Arcadia Publishing, 2013). Joshua is interested in a wide array of topics, and since 1992 has been heavily involved in numismatics, a topic about which he loves to research and write. His main area of focus is 19th and 20th century United States coins, but he also enjoys Canadian coins.