What Does 2018 Have In Store For Coin Collectors?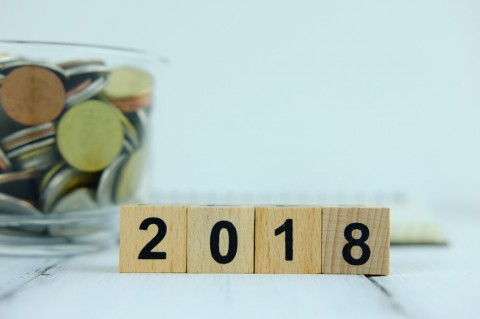 It's a new year, and that means new coins are on their way for collectors in 2018. There's a bevy of new coins in 2018 from the United States Mint, including longtime favorites such as Lincoln cents, America the Beautiful quarters, American Eagle bullion coins, and much more. But it's not just the U.S. Mint with hot new coins – many other mints from around the world have fresh coins and exciting products for 2018. Here's a rundown on some of the many exciting coins coming from the United States Mint, Royal Canadian Mint, Perth Mint, Mexican Mint, and more.
2018 United States Mint Coins
The year 2018 marks an important anniversary for the United States Mint, which marks 225 years since the first official federal coinage was released for circulation. Collectors can celebrate by purchasing 2018 American Palladium Eagle proof coins. The .9995-fine, 1-ounce palladium eagles features the classic Winged Liberty Head (or "Mercury") design by Adolph A. Weinman that appeared on the dime from 1916 through 1945. The reverse design carries a Weinman motif of an American Eagle that was seen on an American Institute of Architects (AIA) gold medal in 1907.
Among the many other offerings you can buy from the United States Mint are 2018 proof sets, 2018 uncirculated coin sets, and commemorative coinage. The 2018 commemorative coins include a 3-coin set (half dollar, silver dollar, and $5 gold coin) honoring breast cancer research and a silver dollar that pays homage to American World War I veterans, the last of whom passed away in 2011.
2018 Royal Canadian Mint Coins
The Royal Canadian Mint, commonly shorthanded as simply the "RCM," is announcing its 2018 Big Coin Series. The new coin program features seven 5-ounce pure silver coins featuring classic Canadian coin designs, including the Maple Leaf cent, Beaver nickel, Schooner dime, Caribou quarter, Canada Coat of Arms half dollar, Voyageur dollar, an Polar Bear $2 coin (or "Twonie").
Also on tap for 2018 are the 1-ounce Yin and Yang pure silver coins featuring colorized motifs of a tiger and dragon, the 30th Anniversary Silver Maple Leaf 2-coin set, and 12-coin Swarovski Crystal Birthstone coin set. These and many other fine offerings from the RCM are sure to keep collectors busy throughout 2018.
2018 Mexico Mint Coins
The Mexican silver Libertad series is going strong as ever, and collectors are sure to have plenty of options to choose from when the 2018 Mexico Libertad .999-fine silver coins make their rounds. Libertads are struck as one-ounce coins and come in various other fractional sizes, including the 1-kilogram silver coin, 5-ounce silver coin, 2-ounce silver coin, 1-ounce silver coin, 1/2-ounce silver coin, 1/4-ounce silver coin, 1/10-ounce silver coin, an 1/20-ounce silver coin.
2018 Perth Mint Coins
Among the most popular offerings from Perth Mint is the Australian Lunar series .9999-fine silver coins. The Australian Lunar Series II 2018 Year of the Dog silver proof coins are sure to be a hit among fans of silver bullion coins, zodiac memorabilia, and, of course, those who love "man's best friend." Other 2018 Perth Mint coins include the Phoenix 2018 Chinese Mythical Ancient Creatures 2-ounce silver antiqued coin, 2018 Peace Bonds Australian War Poster Series 1-ounce silver coin, the Scooby Doo 1-ounce silver coin, and the 2018 Chinese New Year coin.
Other Cool 2018 Coins To Watch
The United Kingdom will soon be releasing a 2£ commemorative coin honoring the 200th anniversary of Mary Shelley's book Frankenstein. The British Royal Mint will also unveil a 50 pence coin commemorating 100 years of the Representation of the People Act of 1918, which gave women over 30, men age 21 or older, and servicemen as young as 19 the right to vote. Meanwhile, new designs are coming for the 2018 Chinese Panda coins, and the tiny European nation of Luxembourg will issue a 2 euro coin commemorating the 150th anniversary of its constitution.
About the author
Joshua McMorrow-Hernandez is a freelance writer and author who has contributed hundreds of online articles and blog posts, as well as published Images of America, Tampa's Carrollwood (Arcadia Publishing, 2013). Joshua is interested in a wide array of topics, and since 1992 has been heavily involved in numismatics, a topic about which he loves to research and write. His main area of focus is 19th and 20th century United States coins, but he also enjoys Canadian coins.