What Rare Coins, Modern Art, and Birkin Bags Have in Common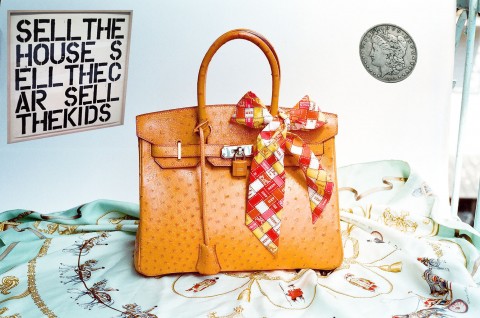 ​At first glance, the juxtaposition of rare coins, fine art, and luxury bags might seem somewhat odd. What may such different items as coinage, paintings, and accessories have in common? In this case, these are three examples of sought after investment vehicles that can serve as a hedge against inflation due to their rarity, value, and timelessness. Bought at the right time, these investments can prove to be little treasures whose price may eventually skyrocket under volatile markets.
One of the rarest U.S. coins, the 1895 P Morgan Silver Dollar, is valued at $48,539. SBC Gold explains that the value of this coin lies not in its silver and copper contents but in its extreme rarity: following the "Panic of 1893" when the failure of industrial firms led to a bank run, President Cleveland reduced the production of silver coins to quell possible silver-generated inflation. While 12,000 proof dollars were rumored to have been minted initially, only 800 were actually ever confirmed and only about 700 are known to exist today. This rarity makes this issue so high-priced despite its 1-dollar face value and low precious metal (melt) value of $13.

Notwithstanding the economic crisis of 2008 and its anemic recovery in the following years, the art market has seen unprecedented price surges. Over the span of 25 years, Christopher Wool's "Apocalypse Now," a painting with black letters on a white background reading "SELL THE HOUSE SELL THE CAR SELL THE KIDS," had appreciated about 350,000 percent when it sold for $26.4 million at Christie's in 2013. The auction house had previously estimated that Wool's painting would sell for between $15 million and $20 million. Interestingly, the Solomon R. Guggenheim Museum had launched an extensive mid-career survey of Wool's work only 18 days prior to the auction, essentially certifying the immense worth of his art.

Few may think of including accessories in their investment portfolio. Yet, a recent report found that the famous Birkin bag by French luxury label Hermès grows at an average annual rate of 14.2 percent with a total value increase of over 500 percent in the last 35 years (since the bag's inception). In fact, the Birkin bag has never decreased in value. The study also predicted that the bag's value will double over the next ten years. The Birkin bag is an exclusive status symbolthat few will ever be able to acquire: not only can the price tag run up to $100,000 per bag, the waitlist may also be as long as six years for a new one. Hence, Birkin bags on secondary markets often sell for much more than their original price: a pink crocodile-skin Birkin sold for a record-breaking $223,000 at an auction in 2015.

In these unpredictable economic times, tangible assets that are considered enduringly high-value and high-status provide long-term benefits for investors. Regardless of whether the financial markets collapse, the dollar plummets or inflation escalates, the monetary worth of a rare silver coin, coveted modern painting or classic luxury bag has always steadily increased over time. Those who acquire such timeless classics at opportune moments will likely reap sizable benefits in the future.

About the author