Why 2016 Liberty Commemorative Coins Aren't In Silver – Yet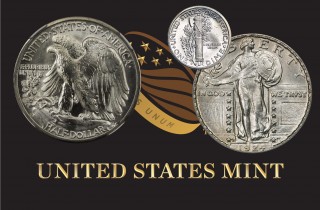 Coin collectors who love classic American numismatic designs are excited for the new 2016 commemorative coins that will celebrate the 100th anniversaries of the Liberty Head (or "Mercury") dime, Standing Liberty quarter, and Walking Liberty half dollar. The three coins, which were first minted in 1916, were made for decades and are still among the nation's most popular coins. Additionally, many collectors consider these three Liberty designs among America's most beautiful coins.
To honor these classic designs, the United States Mint will issue in 2016 three coins that will completely replicate the appearance of these coins as they were in 1916. These three coins will even have the same respective diameters as the three coin corresponding designs that are being honored; the 2016 Mercury dime will measure 17.9 millimeters in diameter, the 2016 Standing Liberty quarter coin will be 24.3 millimeters in diameter, and the 2016 Walking Liberty half dollar commemorative will come in at 30.6 millimeters in diameter.
Of course, the Mercury dime and Walking Liberty half dollar (designed by Adolph A. Weinman) and Standing Liberty quarter (Hermon A. MacNeil's design) were originally produced as silver coins. So, it may be surprising for some to learn that, as of right now, the 2016-dated coins that will commemorate those three timeless 20th-century silver coins will actually be made in gold, not silver.
Why?
The full answer is complicated, but here's the simple version: the United States Mint would have to get an act of Congress to approve striking these three coins in silver. Basically, U.S. law permits the U.S. Mint to strike gold and platinum coins without special authorization. However, the creation of silver coins requires an act of Congress for approval. In other words, the U.S. Mint can't legally create a 2016 silver Mercury dime, 2016 silver Standing Liberty quarter, and 2016 silver Walking Liberty half dollar without a new law being created and approved in Congress.
We all know how simple THAT can be these days… [Insert polite laughter at my sarcastic remark here, please].
So, does that mean coin collectors who want silver replicas of these three beloved silver coins will have to pay perhaps hundreds of dollars each for gold versions of the Mercury dime, Standing Liberty quarter, and Walking Liberty half dollar in 2016? Well, not necessarily. That is, the U.S. Mint could still produce those three commemorative coins in slightly less-expensive platinum. Or, it's possible (I stress possible, not plausible) that an act of Congress could authorize the use of silver planchets for the three 2016 Liberty coins – though time for that is quickly running out.
Only time will tell what the U.S. Mint does next year with this unique offering. Stay tuned, but don't hold your breath that we'll see silver editions of these three famous designs in 2016. Regardless, there's much anticipation about these three new coins in the numismatic community, and the early word is the gold coins will be produced with a classy matte finish. You better get ready, because I think these coins will go fast.
By accepting you will be accessing a service provided by a third-party external to https://coinvalues.com/