2015 American Silver Eagles Sell Out As Silver Prices Plunge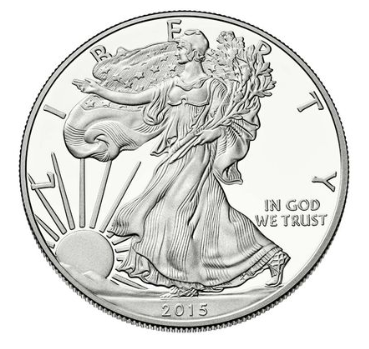 The United States Mint has sold out of 2015 American Silver Eagles and will not be distributing any more for about two weeks. This news comes during a massive uptick in demand from bullion investors as silver prices have plunged, with prices dropping below $15 on July 7. Early trading on July 8 showed silver prices below $14.90, and as of this writing on the afternoon of July 8, prices hover just above the $15 mark.
Silver bullion buyers have been keeping officials at the United States Mint busy over the past year, as this is the second silver eagle sellout in less than 10 months. The U.S. Mint sold out of 2014 American Silver Eagles in November when silver bullion prices took a similar dip toward the $15 mark. By the end of 2014, the United States Mint had set a record for the most American Silver Eagles distributed in a single year (44,006,000 coins).
Distribution of 2015 American Silver Eagles may be on the path to meet or exceed those figures, as the United States Mint has already sold 2,609,000 American Silver Eagles during the first eight days of July 2015 – that's more than were sold during the entire month of May 2015. Year-to-date, the United States Mint has sold 24,395,000 American Silver Eagles.
A general increase in American Silver Eagle sales, which was marked by the 4,840,000 coins in June, appears to be directly tied to the June 1 end of the rationing program that restricted silver eagle sales through the U.S. Mint's Authorized Purchaser program.
The big question remains whether or not all these recently sold American Silver Eagles will be good investments for their buyers. Presumably, silver investors are buying these bullion coins because they think they are a great bargain right now. And maybe they are. Or, perhaps silver prices will inch downward to the $10 threshold. Only time will tell.
Stay tuned.
About the author
Joshua McMorrow-Hernandez is a freelance writer and author who has contributed hundreds of online articles and blog posts, as well as published Images of America, Tampa's Carrollwood (Arcadia Publishing, 2013). Joshua is interested in a wide array of topics, and since 1992 has been heavily involved in numismatics, a topic about which he loves to research and write. His main area of focus is 19th and 20th century United States coins, but he also enjoys Canadian coins.