2016 Standing Liberty Quarter Gold Centennial Commemorative Coin Excites Coin Collectors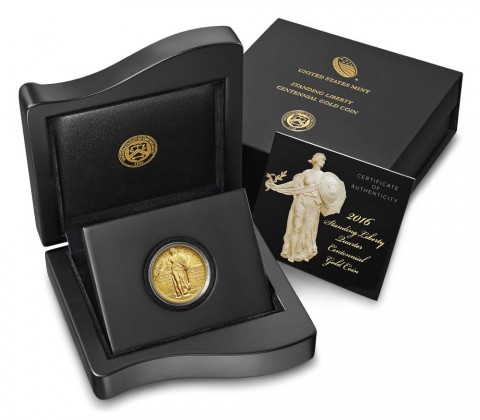 The 2016 Standing Liberty Quarter gold commemorative coin was released by the United States Mint at 12 Noon on September 8, 2016, receiving an impressive response from coin collectors. Even with an ordering limit of just one coin per household, the 2016 Standing Liberty gold coin had already flown out of the Mint at a rapid pace. More than half of its maximum production limit of 100,000 coins had sold in just five days, with 53,378 coins already gone by September 12.

The gold Standing Liberty commemorative coins honor the 100th anniversary of the Standing Liberty quarter series. First struck in 1916 and designed by artist Hermon A. MacNeil, the Standing Liberty quarter is one of the most beloved silver coins made by the United States Mint. Most Standing Liberty quarters are widely available at coin shops, but some are quite rare, with the 1916 quarter serving as the key date of the series. Only 52,000 Standing Liberty quarters were struck in 1916. Values for the rare silver coin exceed $3,000 even for examples in the well-circulated grade of Good-4.

The 2016 gold Standing Liberty quarter, on the other hand, had a U.S. Mint issue price of just $485, with certified specimens selling for anywhere between $500 and $800 as of early fall 2016. The new gold quarters are struck in a special satiny, matte finish and struck at the West Point (W) Mint in New York. The 2016-W Standing Liberty quarter gold commemorative coin boasts 1/4-ounce of gold as a symbolic nod to the coin's denomination of 25 cents, or a quarter dollar. The gold coin is packaged in a handsome wooden collector box that allows for luxurious display and storage of the coin.

It should be noted that the 2016 Standing Liberty quarter gold coin features the original Type I motif, which shows Miss Liberty's bare right breast. The Type I Standing Liberty quarter was minted into the first months of 1917 but was modified following public protest concerning Liberty's exposed breast. The new design of 1917, which coin collectors now largely identify as Type II, shows Miss Liberty in a chain mail; on the reverse , three stars are seen under the flying eagle.

Standing Liberty quarters aren't the only classic silver coin the United States Mint is re-imagining in gold form during 2016. Earlier in the year, the U.S. Mint issued a 1/10-ounce 2016-W Mercury dime that quickly sold out with an issue price of $205. Soon after supplies of the 2016 Mercury dime gold coin were exhausted, the coin was selling for more than $400 in the secondary market. It was little surprise that the 2016-W Mercury dime was so popular with collectors, for its famous design by Adolph A. Weinman has been prized by numismatists since the Mercury dime series was first released in 1916.

Later in 2016, the U.S. Mint will honor another classic silver coin that was originally designed by Weinman: the Walking Liberty half dollar. The 2016-W Walking Liberty half dollar gold commemorative issue pays tribute to the 100th anniversary of the silver coin many consider among the most beautiful the United States Mint ever produced. The 2016 Walking Liberty coin will boast a 1/2-ounce of gold and, like its Standing Liberty and Mercury dime predecessors, will have a satin-like matte finish. At this time, a release date and price have not been made public.

About the author
Joshua McMorrow-Hernandez is a freelance writer and author who has contributed hundreds of online articles and blog posts, as well as published Images of America, Tampa's Carrollwood (Arcadia Publishing, 2013). Joshua is interested in a wide array of topics, and since 1992 has been heavily involved in numismatics, a topic about which he loves to research and write. His main area of focus is 19th and 20th century United States coins, but he also enjoys Canadian coins.