U.S. Mint American Eagle Coins – Bullion Sales for Week Ending October 24, 2014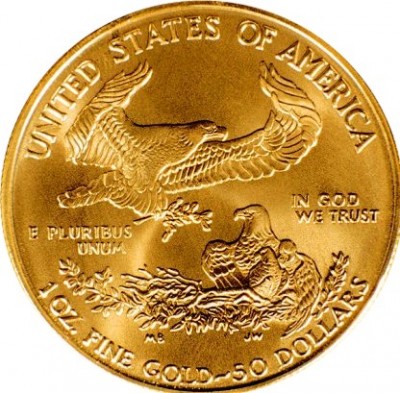 In early October, it looked like the U.S. Mint was well on its way to achieving a monthly sales record for the American eagle silver coins. As we fall through October and look at some crisp new sales numbers released by the U.S. Mint, it's evident that the monthly production figures remain strong for the American silver eagles, and the same can be said for 1 oz. American gold eagles, too. But will the U.S. Mint surpass its September sales figures for these popular bullion coins?
Check out this glance at where American eagle bullion coin sales are at this point in October:
| | | |
| --- | --- | --- |
| | September 1-30 | October 1-24 |
| 1 Oz. American Silver Eagle | 4,140,000 | 3,940,000 |
| 1 Oz. American Gold Eagle | 50,500 | 46,500 |
| 1/2 Oz. American Gold Eagle | 5,000 | 6,000 |
| 1/4 Oz. American Gold Eagle | 8,000 | 8,000 |
| 1/10 Oz. American Gold Eagle | 30,000 | 40,000 |

While October is fading fast, we still haven't made it to Halloween. With another full week to go in the month, it's pretty likely we will see American silver eagles and 1 oz. American gold eagles surpass their September figures by a substantial sum. As it stands, production of 1/10 oz. American eagle gold coins has already eclipsed the total from September, and by a margin of 33 percent. Sales of 1/2 oz. American eagle gold coins have also climbed past their September numbers, though by a more modest 20 percent.
Breaking down the total sales from the past week, 840,000 American silver eagles have sold from the U.S. Mint since October 17. That's more than the 580,000 silver eagles sold in the previous week, but still far less than the one-day total on October 1, when 1.15 million American silver eagles fled the U.S. Mint. That event coincided with silver hovering around $17; it would dip into the $16.90s before resurfacing above $17 again. As of this writing, silver bobs around $17.20, which is about where the metal has remained, give or take a couple dimes, since the earliest part of the month.
Gold, meanwhile, has climbed just past the $1,230 mark. Investors on the gold side have seen their metal rebound from a recent low of about $1,192, which occurred at the same time silver briefly fell back to the $16-something range. 11,500 1 oz. American gold eagles sold in the past week, which is indeed a robust figure.
Clearly, investors are thinking now may be a good time to move before getting left behind on what could be a long-running price recovery for gold. With Halloween next Friday, we will find out during the next American eagle bullion report whether there are any treats to be enjoyed in the always tricky metals market.
About the author
Joshua McMorrow-Hernandez is a freelance writer and author who has contributed hundreds of online articles and blog posts, as well as published Images of America, Tampa's Carrollwood (Arcadia Publishing, 2013). Joshua is interested in a wide array of topics, and since 1992 has been heavily involved in numismatics, a topic about which he loves to research and write. His main area of focus is 19th and 20th century United States coins, but he also enjoys Canadian coins.