U.S. Mint American Eagle Coins – Bullion Sales for Week Ending October 17, 2014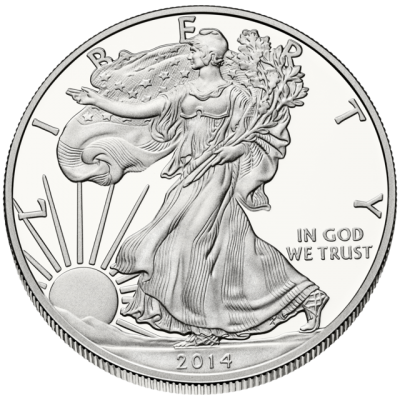 American eagle coin sales from the past week reflect continued pressure from investors, who appear to be snapping up 1-ounce American siler eagle and American gold eagle coins. While the activity over the past seven days is definitely lighter than it was early in the month, when more than 1 million American silver eagles were sold in just one day, the overall number of sales this past week at the U.S. Mint were nevertheless strong.
Here's a look at how the American eagle coin sales stand for October so far:
| | | |
| --- | --- | --- |
| | September 1-30 | October 1-17 |
| 1 Oz. American Silver Eagle | 4,140,000 | 3,100,000 |
| 1 Oz. American Gold Eagle | 50,500 | 35,500 |
| 1/2 Oz. American Gold Eagle | 5,000 | 5,000 |
| 1/4 Oz. American Gold Eagle | 8,000 | 8,000 |
| 1/10 Oz. American Gold Eagle | 30,000 | 30,000 |

At the rate activity is going now, American silver eagle sales are closing in on the figures from September. With silver at about $17.20 as of this writing, American silver eagles still represent a bargain as compared to the prices back in the summer, when silver surpassed the $21 mark. Some 580,000 American silver eagles were sold in the past week, indicating the buying frenzy may be cooling off for the interim while investors perhaps wait and see what silver is going to do as the year draws to a close. Certainly the November elections could affect bullion speculation to a degree.
Given current market conditions, it's possible that silver will hold steady or continue to soften a tad. Surely, if prices should rest toward the $15-16 mark, expect a huge surge of buying activity akin to the pandemonium of early October. Likewise, if prices creep back up to the $20 mark, there could be a rush to buy silver eagles while they remain "affordable."
On the side of American gold eagles, there was relatively little notable activity, though sales have been generally stronger throughout the month of October than in September for all of the fractional coins and the 1-ounce American gold eagle. The month-total sales figures for October, which already match those for September in each case except for the 1-ounce gold coin, are largely bolstered by the flurry of sales activity during the earlier part of this month.
About the author
Joshua McMorrow-Hernandez is a freelance writer and author who has contributed hundreds of online articles and blog posts, as well as published Images of America, Tampa's Carrollwood (Arcadia Publishing, 2013). Joshua is interested in a wide array of topics, and since 1992 has been heavily involved in numismatics, a topic about which he loves to research and write. His main area of focus is 19th and 20th century United States coins, but he also enjoys Canadian coins.