U.S. Mint American Eagle Coins – Bullion Sales for November 2014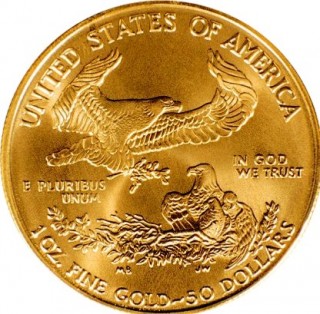 American eagle silver and gold coin sales figures for November 2014 appear strong, though overall the numbers weren't quite as high in November as they were in October 2014. A very small part of this may be due to the fact that the U.S. Mint was closed for the Thanksgiving holiday.
Another important factor to consider with U.S. Mint bullion coin sales in November was the sellout of American silver eagles during the middle of the month, which occurred as silver bullion prices tumbled. The first dip in bullion values, which occurred early in October, brought silver and gold prices below $18 and $1,200, respectively. That helped to send bullion coin sales through the roof. Another dip early in November pushed silver and gold prices down even further. At one point in early November, silver traded under $15 an ounce and gold was priced at just a shade below $1,130.
Here's the monthly breakdown for sales of American eagle silver and gold coins in November 2014 with comparisons to October 2014 bullion coin sales:
| | | |
| --- | --- | --- |
| | October | November |
| 1 Oz. American Silver Eagle | 5,790,000 | 3,426,000 |
| 1 Oz. American Gold Eagle | 57,500 | 49,000 |
| 1/2 Oz. American Gold Eagle | 6,000 | 8,000 |
| 1/4 Oz. American Gold Eagle | 8,000 | 12,000 |
| 1/10 Oz. American Gold Eagle | 50,000 | 40,000 |
Of the five types of American eagle bullion coins, only the 1/2-ounce and 1/4-ounce gold coins recorded gains over October 2014 sales figures. However, production figures for the American silver eagle, as well as the 1-ounce and 1/10-ounce gold coins, remained nevertheless buoyant throughout November. Perhaps if the supply of new, 2014-dated American silver eagle coins had not been exhausted, November sales figures for that issue would be more than 4 million – not a far-fetched estimate given the extreme pressure on that coin from bullion investors.
Going into the final month of 2014, it will be interesting to see if any sales figures for 2014 can exceed those from 2013. Last year, 42,675,000 American silver eagles were sold, and 1,458,500 American gold eagle coins were distributed by the U.S. Mint. While only 1,090,500 gold eagles have been sold in 2014 – and it looks unlikely that another 400,000 will be struck in just one month, the American silver eagle figure from last year could be topped.
So far, 41,547,000 silver eagles have been struck in 2014. Will 1.5 million more 2014-dated American silver eagles roll out of the U.S. Mint in December? If silver bullion values stay roughly where they are today ($15.56 per ounce) or dip even lower, then 2014 could easily see 43 or 44 million silver eagles fly into the hands of coin collectors and investors.
Let's stay tuned.
By accepting you will be accessing a service provided by a third-party external to https://coinvalues.com/