U.S. Mint American Eagle Coins – Bullion Sales for Week Ending November 21, 2014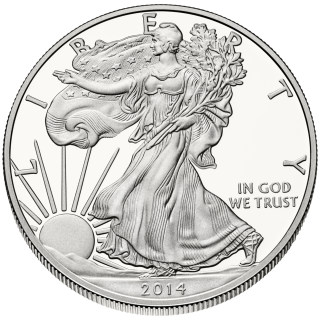 Closing out the week of November 21, 2014, bullion coin sales were once again robust riding on a slight stabilization of silver and gold prices over the past week. If you've been following bullion prices in the past few weeks, you'll recall that the price of silver briefly fell below $15 on November 7 and held in the $15 range for much of the following week.
This helped lead to a major run on silver American eagle coins and an eventual sellout of those pieces at the U.S. Mint as distributors lined up to buy silver. The Mint, which supplies uncirculated bullion coins to silver coin dealers across the United States, was able to supply American silver eagle coins to distributors beginning this past Monday.
Here's a look at the brisk sales figures for both silver and gold American eagle coins at the U.S. Mint for the week ending November 21:
October 1-31

November 15-21

1 Oz. American Silver Eagle

5,790,000

1,429,500

2,689,500 for November

1 Oz. American Gold Eagle

57,500

12,500

41,500 for the month

1/2 Oz. American Gold Eagle

6,000

3,000

5,000 for the month

1/4 Oz. American Gold Eagle

8,000

6,000

10,000 for the month

1/10 Oz. American Gold Eagle

50,000

15,000

30,000 for the month

More than 1.4 million American silver eagles were sold between November 15 and 21 – a larger number than sold during the entire month of November up to last week. Presuming prices hold at around $16.50 per ounce of silver going into Thanksgiving week (where prices are as of this writing), I would expect sales to be steady through the holiday, which means the U.S. Mint will probably have sold a total of around 3.8 to 4 million silver eagles during November 2014.
On the gold side, there's been equal excitement, especially after gold touched under $1140 a couple weeks ago. 1-ounce gold American eagles have been especially popular with diehard bullion investors, though perhaps not as fervently so as silver eagles have been lately. Still, respectable sales figures were seen across the board this week in gold, especially with the 1/4-ounce and 1/2-ounce gold American eagles, which saw more than 50 percent of their November totals sold in just this past week alone.
By accepting you will be accessing a service provided by a third-party external to https://coinvalues.com/