U.S. Mint American Eagle Coins – Bullion Sales for Week Ending November 7, 2014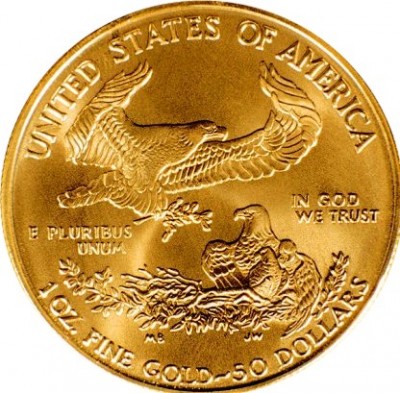 November has started off on a weak footing for gold and silver.
During the October wrap-up and week-end reports on October 31, I discussed that gold and silver bullion values had been showing downward slides for the previous few days and proposed a situation in which gold could fall to $1150 while silver dipped below $15. That's exactly what happened, if only for a brief period, over this past week. In fact, at one point on Friday, November 7, silver touched bottom at $14.98 and gold fell as far as $1130.70 before bounding back up to around $1175. Silver, meanwhile ended the week at about $15.75.
Starting off on a fresh slate, the American eagle bullion coin reports show the past week was definitely active as bullion investors buy silver and gold coins. Here's a rundown on the bullion coin sales for the week ending November 7, 2014:
| | | |
| --- | --- | --- |
| | October 1-31 | November 1-7 |
| 1 Oz. American Silver Eagle | 5,790,000 | 1,260,000 |
| 1 Oz. American Gold Eagle | 57,500 | 29,000 |
| 1/2 Oz. American Gold Eagle | 6,000 | 2,000 |
| 1/4 Oz. American Gold Eagle | 8,000 | 4,000 |
| 1/10 Oz. American Gold Eagle | 50,000 | 15,000 |

Across the board, American eagle silver and gold coin sales were strong for the first week of November. But the eyes keep turning to that huge figure of 29,000 units sold for the 1 ounce American eagle gold coin – that's more than half the number of 1 ounce American gold eagles sold during the entire month of October. Half the number of 1/4 ounce American gold eagles were sold during the first week of November as compared to the entire number of pieces that left the U.S. Mint in the previous month. American silver eagles are also selling at a brisk pace.
Bullion investors may be seeing this time as an opportunity to buy low, keeping in mind that market uncertainty means prices could possibly drop further. The current bullion prices are the lowest they have been in four years, and at the rate the gold and silver markets have been sliding over the past few weeks, it's no longer that hard to imagine gold at or below $1,000 and silver at less than $10. Of course, as many readers will remember, gold traded at between $300 and $500 for around 20 years after the gold boom went bust in the early 1980s. Silver, also, was valued at between $4 and $7 for much of the 1980s, throughout the 1990s, and even into the very early 2000s.
It is far-fetched to suggest gold and silver bullion prices will return to 1980s and 1990s levels; after all, myriad economic factors have changed since those days and also, inflation would mean the absolute dollar value today would naturally be higher than absolute values years ago. However, it is interesting to study the historical silver and gold prices to put today's bullion market in perspective and remember how low bullion prices were just more than a decade ago.
About the author
Joshua McMorrow-Hernandez is a freelance writer and author who has contributed hundreds of online articles and blog posts, as well as published Images of America, Tampa's Carrollwood (Arcadia Publishing, 2013). Joshua is interested in a wide array of topics, and since 1992 has been heavily involved in numismatics, a topic about which he loves to research and write. His main area of focus is 19th and 20th century United States coins, but he also enjoys Canadian coins.