U.S. Mint American Eagle Coins – Bullion Sales for Week Ending October 31, 2014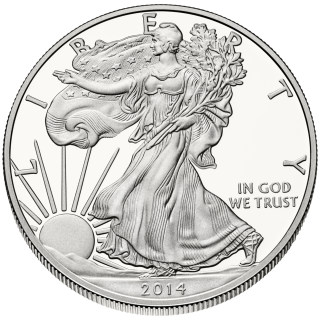 Last week's American eagle silver and gold coin sales report from the U.S. Mint was written before the tumble that gold and silver prices took over the past few days. For the record, at this moment, silver is trading at $16.24 and gold is at $1,175. This same time last week, those two metals were priced at $17.20 and $1,231, respectively.
When I wrote the previous weekly bullion coin sales report, I speculated that American silver eagles and American eagle 1 ounce gold coins would surpass the September sales totals by a "substantial sum." Let's take a look at the numbers below and see what happened:
| | | |
| --- | --- | --- |
| | September 1-30 | October 1-31 |
| 1 Oz. American Silver Eagle | 4,140,000 | 5,790,000 |
| 1 Oz. American Gold Eagle | 50,500 | 57,500 |
| 1/2 Oz. American Gold Eagle | 5,000 | 6,000 |
| 1/4 Oz. American Gold Eagle | 8,000 | 8,000 |
| 1/10 Oz. American Gold Eagle | 30,000 | 50,000 |

Indeed, the drop off on silver and gold prices created quite a buzz in the bullion market, and investors were in a buying mood. American silver eagles sold at a dizzying rate this past week, with some 1,850,000 silver eagles selling as of 5 PM Eastern Standard Time today. Meanwhile, 1 ounce American gold eagles charted 11,000 sales since the last Coin Values U.S. Mint bullion coin sales report was written last Friday.
What's going to happen as we go into November? If you recall, October opened with bullion prices dropping to a previous recent low during the first days of the month, when silver traded at around $16.95-17.05 and gold fell to $1,195-1,200. Clearly, those early October 2014 lows have been shattered by the drops in price over the past couple days. What will happen if silver drops below $15 next week? Will silver prices correct a bit and head back to the $17-18 range? Might gold regain the recent losses and crest back to $1,230 mark? Or will it screech below $1,150?

One thing is for certain – on this Halloween Friday, the bullion metals market is playing a lot of tricks, and it's offering many treats for investors in a position to buy silver and gold bullion coins. No matter what happens with metals prices during the first week of November, it should continue to be interesting for bullion speculators.
By accepting you will be accessing a service provided by a third-party external to https://coinvalues.com/