U.S. Mint American Eagle Coins – Bullion Sales for Week Ending October 10, 2014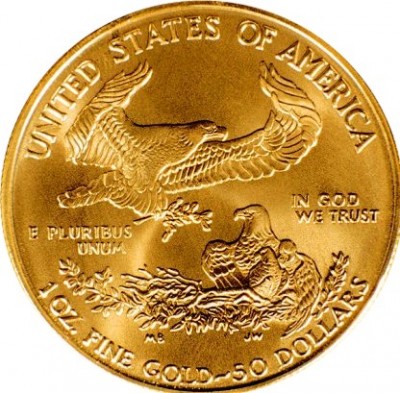 We've only barely gotten into the first couple weeks of October and already the month is off to a roaring start for gold and silver bullion coin sales at the United States Mint.
For the week ending October 10, 2014, there are some truly outstanding sales figures to report for the American silver eagle series and American gold eagles.
Here's a glance at the bullion report for American eagle coin sales so far in October:
| | | |
| --- | --- | --- |
| Bullion Report | September 1-30 | October 1-10 |
| 1 Oz. American Silver Eagle | 4,140,000 | 2,520,000 |
| 1 Oz. American Gold Eagle | 50,500 | 28,500 |
| 1/2 Oz. American Gold Eagle | 5,000 | 4,000 |
| 1/4 Oz. American Gold Eagle | 8,000 | 6,000 |
| 1/10 Oz. American Gold Eagle | 93,500 | 48,500 |

Already, just 10 days into the month, the U.S. Mint seems well on pace to, by Halloween, shatter the monthly sales figures from September. In fact, the U.S. Mint sold more than 1 million American silver eagles during just 24 hours early this month.
Meanwhile, American gold eagle coinage has been selling at a rapid pace, too. 50 percent or more of the September figures have already been reached in just 10 days, which seems to suggest that we will see some impressive monthly sales figures come the end of this month.
Take, for example, the 1/2 ounce gold eagles – 4,000 have already been sold in just 10 days, as compared to 5,000 during the entire month of September. Even the one ounce American gold eagle is poised to overtake its previous month's sales figures, with 28,500 coins sold in October so far versus 50,500 in September.
What's Behind the High Sales Figures for 2014 American Eagle Coins?
Softening gold and silver prices are prompting many bullion investors to buy American gold and silver eagle coins right now. As of this writing, silver is around $17.40 an ounce and gold is holding at about $1,223.
In July, silver had a spot price of about $21.25 and gold was trading for $1,330.
Gold and silver investors have to wonder if prices will continue to descend or if these precious metals are poised to rebound. Silver was priced at a shade below $17 on the day the U.S. Mint sold over 1 million American silver eagles, and gold was valued at around $1,195 at one point early this month.
How much lower can silver and gold really go? Perhaps we've already hit bottom.
About the author
Joshua McMorrow-Hernandez is a freelance writer and author who has contributed hundreds of online articles and blog posts, as well as published Images of America, Tampa's Carrollwood (Arcadia Publishing, 2013). Joshua is interested in a wide array of topics, and since 1992 has been heavily involved in numismatics, a topic about which he loves to research and write. His main area of focus is 19th and 20th century United States coins, but he also enjoys Canadian coins.