U.S. Mint American Eagle Coins – Bullion Sales for October 2014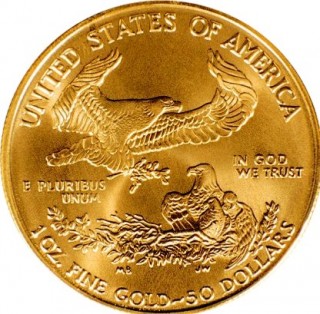 The October 2014 American eagle coin sales report is in, and what a wild month it has been. Apropos for a Halloween report, it was an October of both tricks and treats in the bullion coin market.
Tricks, in that we saw two significant price drops sandwich a bullion rebound during a very short period of time.
Treats for bullion investors who want to buy silver and gold coins, and did so either early or late this month.
We started off October 2014 discussing silver's dip in $16-something water and gold's brief descent below $1,200. We tracked the silver and gold rebound in the middle of the month, when silver climbed back above $17 and gold hit the $1,230s, and now we finish the month with silver at one point dropping under $15.75 and gold touching the $1,170s.
These bullion price drops, as you would imagine, have greatly affected the sale of American eagle gold and silver coins. Remember when more than 1 million American silver eagles were sold on a single day early in October 2014? Between that one-day surge in sales and a busy past few days, the U.S. Mint sold nearly 6 million American silver eagles and more than 120,000 American gold eagles in October.
Here's the monthly breakdown with comparisons to September 2014 bullion coin sales:
| | | |
| --- | --- | --- |
| | September | October |
| 1 Oz. American Silver Eagle | 4,140,000 | 5,790,000 |
| 1 Oz. American Gold Eagle | 50,500 | 57,500 |
| 1/2 Oz. American Gold Eagle | 5,000 | 6,000 |
| 1/4 Oz. American Gold Eagle | 8,000 | 8,000 |
| 1/10 Oz. American Gold Eagle | 30,000 | 50,000 |
The U.S. Mint is boasting some extremely strong American eagle coin sales figures for October that will be pretty difficult to beat in November, unless the bottom really falls out on the bullion market. Given the substantial drops in silver and gold bullion prices, it's getting much easier to envision silver sinking below $15 and gold falling under $1,150. Conversely, prices may also recover. Of course, there's no crystal ball to see precisely what bullion prices will look like next month.
What will be interesting to monitor is the bullion metal supplies at the U.S. Mint. At the moment, officials at the U.S. Mint are saying that there are no plans to set a limit on bullion coin sales. However, it's plausible that several more days of record or near-record American silver eagle sales may mean the U.S. Mint would have to reconsider the matter of sales limits if the silver stockpile dwindles.
If a limit is placed on the sale of American silver eagle coins, then expect a rush on older uncirculated American silver eagles. Until we get word that a sales limit will be implemented on American silver eagle coins, it appears that bullion coin distributors will keep placing orders at the U.S. Mint, and investors will keep on buying 2014 American silver and gold eagles.
By accepting you will be accessing a service provided by a third-party external to https://coinvalues.com/