Are 1776-1976 Quarters Worth Saving? What Other Valuable Quarters Should You Look For?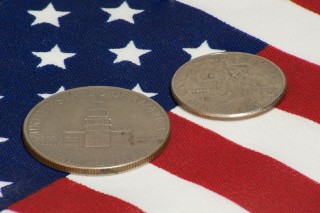 Many readers ask me about what their 1776-1976 Bicentennial quarters are worth. I think a lot of people find 1976 quarters interesting because they look so different than many of the other quarters in their pocket change.
I started collecting coins long before the 50 States Quarters were first released in 1999, and I remember when 1776-1976 Bicentennial quarters were still relatively new and plentiful in circulation. Today, they're getting harder to find in pocket change, and many individuals either don't remember seeing them in circulation very often or have no idea what the Bicentennial quarter is or why it was made.
In 1976, the United States celebrated its 200th birthday with gala celebrations from coast to coast, including massive fireworks displays in Philadelphia, New York City, Boston, Washington, D.C., and other cities nationwide. The United States Mint numismatically celebrated the auspicious occasion by releasing a series of 1776-1976 dual-dated coins honoring our nation's birthday.
A public design contest was held in 1973 to seek commemorative designs for the nation's quarter, half dollar, and dollar. By late 1974, the officials with the U.S. Mint and U.S. Treasury had chosen special commemorative reverse (tail's side) designs for the quarter, half dollar, and dollar coin. They include:
1776-1976 Quarter

– Colonial drummer by Jack L. Ahr



1776-1976 Half Dollar

– Independence Hall by Seth G. Huntington



1776-1976 Dollar

– Liberty Bell superimposed on the Moon by Dennis R. Williams
The special Bicentennial designs were produced both in 1975 and 1976. However, the dates on all of these special commemoratives are only represented as 1776-1976. There are no 1975-dated U.S. quarters, half dollars, or dollar coins.
What Are Bicentennial Quarters Worth? What Other Quarters Should You Look For In Circulation?

If you find circulated 1776-1976 quarters either with no mintmark (those were made in Philadelphia) or the "D" (Denver) mintmark in pocket change, they're worth face value – 25 cents. If you find a 1776-1976 quarter with an "S" (San Francisco) mintmark, it's either a proof specimen or a 40% silver Bicentennial quarter. Circulated proofs are worth 40 to 50 cents, and 40% silver Bicentennial quarters have a value of about $1.50 or more.
You may not get rich finding 1976 quarters in pocket change, but there are many other quarters in face value that are worth more than face value. They include:
All Pre-1965 Quarters

– They're 90% silver and worth $3 to $4 or more each.



1982-P and 1982-D Quarters

– These are scarcer than most other dates and are worth 50 cents or more in well-worn condition and $1 or more if only lightly worn.



1983-P and 1983-D Quarters

– Even scarcer than their 1982 quarter counterparts are 1983-P and 1983-D quarters. These are worth $2 or more in lightly circulated condition.



1986-D Quarter

– Lightly circulated 1986-D quarters are worth about 50 cents or more in lightly circulated condition.



2004-D Wisconsin High Leaf & Low Leaf Variety Quarters

– The Extra High Leaf and Extra Low Leaf varieties are worth about $50 each in circulated condition.
If you want to learn more about what your old quarters are worth, please check out our coin values pages on our site. They will help you learn more about the facts behind each coin and explain what your coins are worth.
By accepting you will be accessing a service provided by a third-party external to https://coinvalues.com/