Five Rare Coins Under $100 (Almost) Nobody Talks About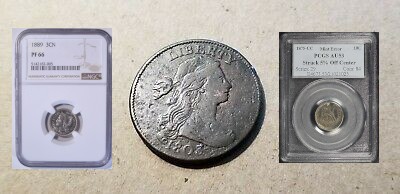 In coin collecting, almost everyone knows about the famous rarities… The 1913 Liberty nickel, 1894-S Barber dime, and – of course – the 1804 Draped Bust dollar. But what many numismatists don't hear about, or in some cases even know about, are the silent rare coins. These pieces are very scarce, with usually fewer than 5,000 to 10,000 survivors, making them rarer in the absolute sense than even the 1909-S VDB Lincoln cent, 1955 doubled die Lincoln cent, 1916-D Mercury dime, and 1889-CC Morgan dollar. And because relatively few people know about or collect these under-the-radar scarce coins, they can be had for a song!
Here's a list of 10 rare coins you can buy for less than $100:
These classic copper coins are popular type coins, but what relatively few people know is how scarce some of them really are. Several issues have total populations of 5,000 or fewer and can be bought in well-circulated grades for less than $100. These include the 1801, 1802, and 1805 issues.
Want to know what represents a small number? The amount of people who know the United States once issued a coin denominated for 3 cents. Want to know an even smaller number? The number of people who knew the year 1889 was the last time the United States Mint struck that coin. And, while we're talking about small numbers, let's discuss the mintage figure of those 1889 nickel 3-cent pieces: just 18,125. How many of those survive today? Perhaps only 1,000. Yet, one can buy well-worn examples of this very coin for less than $100!
1838-O Liberty Seated Dime
Did you know the 1838-O Liberty Seated dime was the first branch-mint 10-cent piece. If you didn't before, then now you do! And this 1838-O Liberty Seated dime is a scarce coin to boot, with only 489,034 pieces – a mintage roughly similar to the 1909-S VDB Lincoln cent, which had 484,000 examples struck. Only 800 examples of the 1838-O Liberty Seated dime are known to survive (a much lower number than the 50,000 or so 1909-S VDB Lincoln cents out there), and well-worn examples of this early dime can be had for less than $100.
Carson City CC Liberty Seated Dimes
People love coinage from the Carson City Mint, which operated from 1870 through 1893 and made a relatively small number of silver and gold coins. All of these coins bear a distinctive "CC" mintmark and normally come with huge price tags in the high three figures and often four figures. But not all CC coins are super-expensive. At least, not yet. There are a few CC coins you can still buy for less than $100, and these include some Carson City Liberty Seated dimes. The least expensive among these are well-circulated examples of the 1875-CC, 1876-CC, and 1877-CC Liberty Seated dimes, boasting survival numbers of fewer than 5,000 to 7,500 apiece and selling for as little as $50.
Carson City CC Liberty Seated Quarters
Just as there are a select few affordable CC Liberty Seated dimes, there are also a few Carson City Liberty Seated quarters one can still buy for less than $100 in well-circulated condition. These include the 1876-CC, 1877-CC, and 1878-CC Liberty Seated quarters. Each will trade for between $50 and $100 apiece in grades of Good to Fine and are extremely scarce, with fewer than 5,000 known survivors for those individual issues.
About the author
Joshua McMorrow-Hernandez is a freelance writer and author who has contributed hundreds of online articles and blog posts, as well as published Images of America, Tampa's Carrollwood (Arcadia Publishing, 2013). Joshua is interested in a wide array of topics, and since 1992 has been heavily involved in numismatics, a topic about which he loves to research and write. His main area of focus is 19th and 20th century United States coins, but he also enjoys Canadian coins.