Five Ways To Build A Collection Of Half Dollars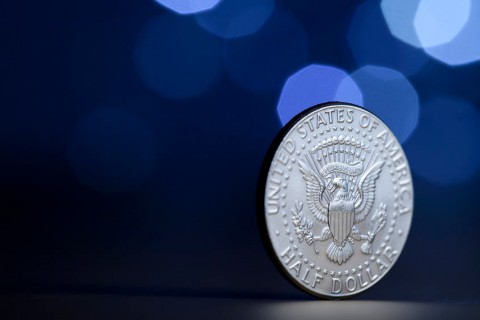 Many coin collecting websites share tips on how to build a set of Lincoln cents, 50 State Quarters, or even silver dollars. But what about half dollars? This oft-overlooked denomination offers hobbyists a whole world of exciting collecting challenges. What are some of the ways you can build a great collection of United States half dollars?
Build A Kennedy Half Dollar Set
One of the most popular of all United States coins is the Kennedy half dollar. First released in 1964 in the months after the assassination of President John F. Kennedy on November 22, 1963, the Kennedy half dollar has been struck in an array of compositions, including .999-fine gold, 90% silver, 40% silver, and copper-nickel clad. Many folks collect a series run of Kennedy halves, or one of each date-and-mintmark as well as composition combination since 1964. These sets generally also include all finish qualities, including proofs, reverse proofs, and uncirculated strikes.
Go For A Franklin Half Dollar Set
The Franklin half dollar series was struck from 1948 through 1963 and ended earlier than anticipated to allow for the striking of the Kennedy half dollar in 1964. Because the Franklin half dollar series lasted only 16 production years, there are only regular-issue 35 business-strikes one must collect to complete the series. This, along with the fact that there are no significant key dates, makes the Franklin half dollar series relatively easy to collect and affordable to buy.
Assemble A Walking Liberty Half Dollar Collection
Many consider the Walking Liberty half dollar the most beautiful silver coin the United States Mint has ever produced. It's also one of the most sought-after coins of the 20th century. The Walking Liberty half dollar series ran from 1916 through 1947 and saw the issuance of several rare and semi-key dates, including the various 1921 issues. Also, all pre-1934 dates in a grade of Extremely Fine or better are conditionally scarce.
Put Together A Short Set of Walking Liberty Half Dollars
As the Walking Liberty half dollar series ran for a period of many years and includes several challenging rarities and better dates, some collectors find another avenue for collecting the Walking Liberty series without spending bundles of money. One way to do this is to build a so-called short set of Walking Liberty half dollars. Oftentimes this means building a set of coins spanning from 1941 through 1947, which includes the most common and least expensive coins in the series. Assembling a short set of 1941-1947 Walking Liberty half dollars can be done at a mere fraction of the price of building an entire collection of Walkers from the first in 1916 to the last in 1947.
Collect A Half Dollar Type Set
Don't want to collect just one type of half dollar? You don't have to! Many collectors who crave variety will build a type set of half dollars to include one example of each design struck since the first were made in the 1790s. One of the most popular ways of building a type set of halves is to buy the coins necessary to fill up the half dollar type set display holder, Model 429 by Capital Plastics. This set houses seven coins, including the Bust (Flowing Hair, Draped Bust or Capped Bust) struck from 1794-1839, the Liberty Seated half dollar of 1839-1891, a Barber half dollar from 1892-1915, a Walking Liberty half dollar, a Franklin half dollar, a Kennedy half dollar, and a 1776-1976 Bicentennial half dollar. The cost of building this set depends on the quality and dates of the coins included, but it generally runs a minimum of $150 to $200 to assemble.
About the author
Joshua McMorrow-Hernandez is a freelance writer and author who has contributed hundreds of online articles and blog posts, as well as published Images of America, Tampa's Carrollwood (Arcadia Publishing, 2013). Joshua is interested in a wide array of topics, and since 1992 has been heavily involved in numismatics, a topic about which he loves to research and write. His main area of focus is 19th and 20th century United States coins, but he also enjoys Canadian coins.