Formula One Coins Race to Fans' Heart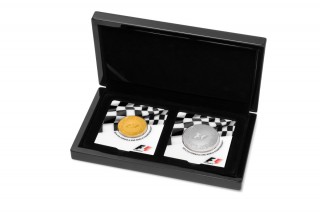 Los Angeles precious metals dealer Rosland Capital is the distributor of new Formula One gold and silver coins that were released on June 15, 2016. The new bullion coins were born from an agreement made between global license holder Stunt & Co. Ltd., which recently struck an agreement with Formula One World Championship Ltd. to sell 0.999-fine silver and 0.9999-fine gold Formula One coins. The officially licensed limited-edition bullion coin series includes a special 1 Kilo 24-carat gold coin that has been grabbing much numismatic attention.
The silver and gold coins are minted by PAMP S.A. in Switzerland and will be issued as legal-tender proof coins that will be available in both the United States and the United Kingdom. The coins honor the rich culture of Formula One racing, a sport that is popular throughout much of the world.

The obverse of each Formula One coin will bear the portrait of Queen Elizabeth II, as seen on all British coinage, along with the denomination of the coin; 2.5-ounce silver and gold coins have a face value of $5 and $200, respectively, while a series of quarter-ounce gold coins carry a $25 face value.

There is also a limited-edition one kilo gold coin with a face value of $1,000. This showcase item has a small production run of just 15 pieces, four of which were sold in the first week alone. Each was sold for $40,000.

For Formula One fans who find a $40,000 price a hard pill to swallow, there are other, less-expensive options. These include:
1/4-ounce gold coins featuring individuals Formula One tracks; for 2016, these include the British Grand Prix, United States Grand Prix, Brazilian Grand Prix, and Italian Grand Prix.
2.5-ounce gold coin bearing the names of all 21 event circuits.
2.5-ounce silver coin with the names of all 21 event circuits.
Mintages for the coins vary. In addition to the 15 one-kilo gold coins that have been struck, 100 of the 2.5-ounce $100 gold coins have been made, while 1,000 of the 2.5-ounce silver coins are being offered to the public. 5,000 pieces will be struck for each of the gold coins honoring individual tracks.
"The coins are not only a way to celebrate the races, but also [are] a unique keepsake for coin collectors and Formula One fans alike," says Marin Aleksov, CEO of Rosland Capital, LLC. "The history of the races [is] truly brought to life in the coin series."

Many people are investing in the Formula One gold and silver coins due to fervent activity in the bullion market in the wake of the Brexit. The Brexit, which refers to the United Kingdom's June 2016 referendum to leave the United Kingdom, upset world bullion markets and caused silver and gold prices to jump virtually overnight. The events have caused many investors to buy bullion coins such as the Formula One pieces and other modern gold and silver coins from around the world.

By accepting you will be accessing a service provided by a third-party external to https://coinvalues.com/