Four Reasons To Collect American Silver Eagles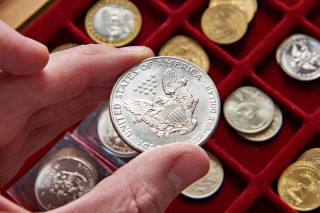 ​Silver stackers who buy American Silver Eagles can't imagine spending more than a few bucks over spot for any such coin, but I've gladly paid as high as $40 over spot for a uncirculated American Silver Eagle. Am I crazy?
Nope… I'm just a fan of American Silver Eagles. You see, uncirculated and bullion American Silver Eagles aren't "just" silver coins for investors anymore. They are widely collected by date and stored in coin albums and coin folders.

That's how I collect American Silver Eagles, too.

Why do people such as me collect silver bullion coins? There are at least four reasons I enjoy collecting silver eagles, including the following:

#1 - American Silver Eagles Have One of the World's Most Beautiful Coin Designs
The Walking Liberty design on the obverse of all American Silver Eagles was created by Adolph A. Weinman and was used on United States half dollars made between 1916 and 1947. Walking Liberty half dollars are widely considered among the world's most beautiful silver coins. It's little surprise that when the United States Mint released the American Silver Eagle in 1986, Weinman's Walking Liberty design was the one chosen to grace the new bullion coin.
#2 - Silver Eagles Are Relatively Easy to Collect
One thing's for certain: there are plenty of American Silver Eagles to go around. Virtually every date going back to 1986 is pretty simple to locate at your local coin dealer. If the nearest coin shop doesn't have a certain date that you're looking for, I'll pretty much guarantee you'll find it in a heartbeat online. Even the 1996 American Silver Eagle, the scarcest of uncirculated ASEs, is quite widely available. You'll just need to pay more for it since it's far less common than other dates in the American Silver Eagle series.
#3 - ASEs Contain Substantial Silver Value
Let's face it – there's an allure to collecting American Silver Eagles not only for their gorgeous design but also because each coin contains a full ounce of silver. This is one reason these coins appeal to bullion investors and silver stackers. Even numismatists, who collect coins with an eye toward historical and collectible value, find pleasure in owning coins with a hefty amount of silver in them.
#4 - Get Tired of Collecting Silver Eagles? They're Easy to Sell!
Most coin collectors focus on building a certain set of coins for a while and then, when they finish that set or tire of the objective, they sell their coins and move on to the next coin collecting goal. Some coins are harder to sell than others. I can assure you that American Silver Eagles are one of the easiest coins to unload. The silver bullion market is active virtually 24/7, and there's always someone who ready and willing to buy your American Silver Eagles.
By accepting you will be accessing a service provided by a third-party external to https://coinvalues.com/