Top 25 Lincoln Penny Sales on eBay in January 2015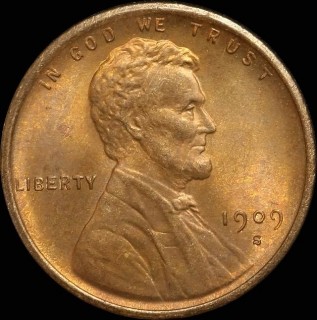 The most expensive Lincoln pennies that were sold on eBay in January 2015 are definitely representative of the rare one-cent coins that most coin collectors go gaga over. Spoiler alert – a 1909-S VDB penny came in at the top spot. OK, maybe that isn't such a surprise. What may be the real twist is the coin that comes in at #2. Hint... Let's just say, modern coins aren't all junk.
This list of the top 25 most expensive Lincoln cents is full of 1909-S VDB and 1955 doubled die pennies, but at what grades and prices? What other coins came in on the list? Here are the most expensive Lincoln cents sold on eBay in January 2015:
1909-S VDB PCGS MS 65, $5,800.00 – This red Lincoln cent is a beautiful specimen for any Lincoln cent aficionado and one that would make a wonderful entry for a registry set.
1973-S NGC MS 67 – $4,800.00 – The number-two spot goes not to another 1909-S VDB, or, say, a 1914-D penny, but to a 1973-S penny. Not just any 1973-S penny, though. Rather, it's a super high-grade coin that represents one of the finest specimens for its issue. Remember, modern pennies are notorious for problems, few of which seem to inhibit this coin.
1909-S VDB PCGS MS 67, $4,650.00 – Wow, 1909-S VDB penny in MS 67 was cheaper than a MS 65 version of the same coin? And, look – they're both PCGS-graded pennies. It's very possible that the time of the auction closing may have affected the prices, with the first 1909-S VDB closing during a busier period than this piece. Perhaps eye appeal issues also affected the difference in price between this much-cheaper MS 67 versus the MS 65 that cost more than $1,000 greater.
1955 Doubled Die NGC CAC MS 64, $4,000.00 – You really can't go wrong buying a solid 1955 doubled die penny with even chocolate brown surfaces. While many collectors value red surfaces on pennies, any Lincoln connoisseur will treasure a mint state 1955 doubled die penny regardless of the surface color.
1939 NGC PR 66, $3,600.00 – This red cameo beauty claims a top 5 spot, which isn't a surprise given the great scarceness of early cameo proofs like this one.
1909-S VDB PCGS CAC MS 65, $3,100.00 – This red brown 1909-S VDB is both housed in a PCGS slab and managed to claim a CAC designation, so you can trust that it's a premium example for its grade.
1909-S VDB PCGS MS 64, $3,000.00 – This red, premium-quality 1909-S VDB penny really rocks. Collectors often wonder – are they better going with a MS 65 1909-S VDB red-brown penny like the one above or a red MS 64 specimen like this one? Obviously, it comes down to personal choice. Some may decide that having a solid MS 65 1909-S VDB is the better investment, but the red qualities of this MS 64 aren't to be denied, either.
1917 Doubled Die Obverse NGC MS 62, $2,999.00 – This is a superior example of the well-documented if less-than-wildly popular (a la the 1955 penny) 1917 doubled die. At MS 62, the 1917 doubled die penny really doesn't get much better in terms of grade.
1909-S VDB PCGS MS 65, $2,995.00 – This red-brown specimen is a handsome piece and definitely one well deserving of a place in any of the finest Lincoln penny collections. (Any authentic 1909 S VDB penny, period, is deserving of a good home, though!)
1942 PCGS CAC MS 67, $2,950.00 – This list of the top 10 most expensive Lincoln pennies sold on eBay in January 2015 is rounded out by this super-high-grading 1942 Lincoln penny. Remember that virtually all Lincoln cents, of any era, grading above MS 65 is actually quite scarce.
The rest of the top 25 list of the most expensive Lincoln cents sold on eBay in January 2015 includes a shuffled deck of rare pennies -- mainly 1955 doubled die, 1909-S VDB, and 1914-D wheat pennies. There's also one MS 63 1972 doubled die cent on the list representing more modern coinage.
11. 1914-D PCGS MS 63 BN, $2,756.00
12. 1955 Doubled Die Obverse PCGS MS 63 BN, $2,595.00
13. 1909-S VDB PCGS MS 64 RD, $2,500.00
14. 1914-D Gem BU, $2,499.00
15. 1909-S VDB PCGS MS 64 RD, $2,425.00
16. 1955 Doubled Die Obverse PCGS MS 62 BN, $2,414.00
17. 1972 Doubled Die Obverse ANACS MS 63 RB, $2,357.55
18. 1955 Doubled Die PCGS MS 62 BN, $2,300.00
19. 1955 Doubled Die PCGS MS 62 BN, $2,200.00
20. 1955 Doubled Die Red Brown, $2,196.00
21. 1955 Doubled Die PCGS MS 63 BN, $2,165.00
22. 1914-D Red Brown Uncirculated, $2,136.11
23. 1909-S VDB PCGS MS 64 RB, $2,100.00
24. 1909-S VDB PCGS MS 64 RB, $2,000.00
25. 1955 Doubled Die Obverse NGC MS 62 BN, $2,000.00
By accepting you will be accessing a service provided by a third-party external to https://coinvalues.com/