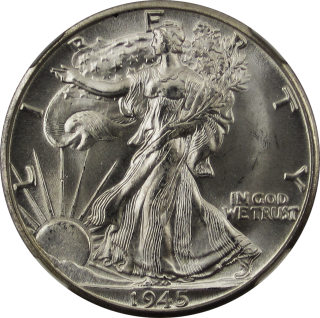 Walking Liberty half dollars are considered the most beautiful silver coins the United States Mint has ever made, and the top 25 most valuable Walking halves sold on eBay in April 2015 certainly rank among the best examples of this gorgeous series. The most expensive of these Walking Liberty half dollars comes in at nearly $5,000, while the 25th most expensive sold for a little under $1,000.
Most of the 25 Walking Liberty half dollars listed below were graded by either the Professional Coin Grading Service (PCGS) or Numismatic Guaranty Corporation (NGC), with several of those specimens receiving the coveted Certified Acceptance Corporation (CAC) designation. CAC coins possess especially desirable eye appeal and are widely considered the best specimens of their grade and issue.
Here are the top 25 most valuable Walking Liberty half dollars sold on eBay in April 2015:


#1 - 1937 NGC Proof 67+ CAC Designated, $4,733.75
This Walking Liberty half dollar, listed as a "snow white" example, is truly a stunning coin. Not only is it a blast-white proof coin, but it's among the best proof Walking Liberty half dollars out there.
#2 - 1936 PCGS Proof 65, $3,799.99
Another proof Walking Liberty half dollar comes in toward the top of this list, with the 1936 proof – representing the first year of the "modern proof" era – listed here. This Proof 65 specimen is a great coin to behold, especially considering that few of the 1930s and early 1940s proof coins still possess brilliant surfaces.
#3 - 1936 NGC Proof 65, $2,795.00
On the surface, this 1936 proof Walking Liberty half dollar is the same grade as the one listed above for $1,000 more. Surely, differences in the time of the listing or perhaps the coin's surface quality may have something to do with the marked price difference. However, the price disparity might also be a great illustration as to how much more PCGS-graded coins tend to be worth than coins graded by other third-party coin certification firms.
#4 - 1941-S PCGS MS 66+, $2,150.00
Though common by date, the 1941-S Walking Liberty half dollar is downright scarce in higher-end mint state grades. Any Walking Liberty half dollar grading MS 65 or better is a true trophy for any coin collector to enjoy.
#5 - 1916-S Gem BU, $1,895.00
It's always a head-scratcher in this day and age when a high-end coin like this Gem BU 1916-S Walking Liberty half dollar sells on eBay raw, as opposed to slabbed, but the reality is that some coin collectors still prefer to buy unslabbed coins. Of course, it goes without saying that anybody buying expensive, unslabbed coins on eBay needs to exercise a greater degree of caution than they might when buying a similar slabbed coin.
#6 - 1916 PCGS MS 65, $1,800.00
Representing the first year of issue for the Walking Liberty half dollar, this 1916 Walker is a gleaming example of the series in MS 65. All MS 65 Walking Liberty half dollars are scarce, and that's especially so when discussing pre-1934 issues.
#7 - 1938-D PCGS MS 65 CAC Designated, $1,430.00
This semi-keydate Walking Liberty half dollar is beautifully represented by the MS 65 CAC-designated specimen offered here. Only 491,600 were originally minted and fewer survive today, especially in high-end Mint State grades.
#8 - 1928-S BU, $1,395.00
This "raw" 1928-S Walking Liberty half dollar was offered as a Brilliant Uncirculated specimen. While the listing doesn't specifically say whether it's a "large S" or "small S" mintmark variety, the final bid suggests the buyer determined it to be a small date variety, as the scarcer large "S" mintmark retails for nearly $2,000 in MS 60; the luster and surface of this specimen looks in line with many of the MS 63 to MS 64 examples on the market.
#9 - 1916-S BU, $1,295.00
Another "raw" Walking Liberty half dollar to cross the eBay online auction block, this 1916-S is a better date that was listed with "full breast feathers." Indeed, this is a beautiful, white specimen of the 1916-S semi-keydate and brought in a healthy sum, especially given the "raw" status of this piece.
#10 - 1921 PCGS VF 35, $1,272.33
The last of the top 10 coins on this list is the scarce 1921 Walking Liberty half dollar. Graded by PCGS as a VF 35, this specimen would make a fine addition to any higher-end Walking Liberty half dollar collection.
Other Valuable Walking Liberty Half Dollars Sold on eBay in April 2015
The remaining 15 coins on this list of the 25 most valuable Walking Liberty half dollars sold on eBay in April 2015 includes an array of mostly uncirculated common dates. There are, however, some scarcer coins below, including a 1939 proof, 1940 proof, 1916-S, two 1938-D half dollars, and 1921-D.
11. 1939 PCGS Proof 67, $1,249.95
12. 1938-D NGC MS 65, $1,231.01
13. 1933-S PCGS MS 63, $1,200.00
14. 1917-D BU "Raw," $1,200.00
15. 1920-S Gem BU "Raw," $1,195.00
16. 1939-D NGC MS 67, $1,175.00
17. 1921-D PCGS VF 25, $1,152.00
18. 1938-D PCGS MS 65, $1,116.00
19. 1920 PCGS MS 64 CAC Designated, $1,100.00
20. 1941 PCGS MS 67, $1,090.00
21. 1917 PCGS MS 65, $1,075.00
22. 1940 Proof 67 CAC Designated, $1,016.50
23. 1920 PCGS MS 64, $1,002.00
24. 1920 PCGS MS 63 CAC Designated, $999.00
25. 1916-S AU/BU "Raw," $950.00