Market for Rare U.S. Coins Heating Up In 2015 - Here's Why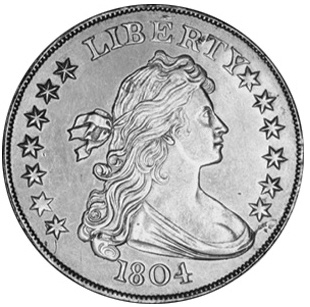 Last year, sales of rare U.S. coins approached $536 million. It looks like things may get even hotter in 2015, during which we'll see the first offerings from the highly anticipated D. Brent Pogue sale.
The Pogue sale, which will offer numerous rare coins from the 1790s through 1830s in a series of auctions starting this May and lasting through 2017, will likely break new coin price records. Two coins that will be offered in the sales -- the 1822 $5 gold half eagle and 1804 Draped Bust silver dollar (long called "The King of American Coins") -- are expected to exert some serious pressure on existing single-coin price records. Specifically, coin analysts believe either the 1804 dollar, 1822 half eagle, or both coins could sell for as much or more than the 1794 Flowing Hair silver dollar that broke records in 2013, when it sold for $10 million.
What's behind the surge in this newly electrified rare U.S. coin market these days?
Namely, the economy. And, it looks like this is only the beginning. As coin collectors and investors shake off the adverse effects from the weak economy (which hurt all areas of the coin industry over the past few years), they look like they're ready to spend, and spend big. Couple that with the flagging bullion market, which is persuading investors to spend their coin money on numismatic treasures rather than silver and gold, and we find ourselves in a situation that looks encouraging for the rare coin industry.
Does this mean we will see prices for rare coins increase across the board? It's hard to say this early on. However, chances are good that as heavyweights like the 1804 Draped Bust silver dollar and 1822 gold half eagle make headlines when they come up for sale in the coming months, we'll see trickle-down interest from diehard numismatists and non-numismatists alike in other areas of the rare U.S. coin market.
By accepting you will be accessing a service provided by a third-party external to https://coinvalues.com/