Bullion Coin Sales on Record Pace at United States Mint in April 2015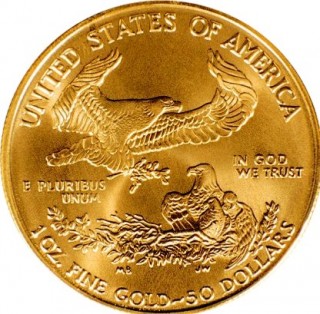 As we enter the second quarter of 2015, the U.S. Mint appears to still be running strong on bullion coin production. During April 2015, a robust supply of American Gold Eagles and American Silver Eagles were made. While quantities were lower than those seen in March 2015, perhaps the most important thing that bullion investors should be watchful for is the fact that sales figures haven't seen any especially dramatic increases or decreases since March 2015, with a couple series-specific exceptions.
Here's a comparison of American Eagle bullion coins sales activity in March and April 2015 for month-to-month comparisons.
| | | |
| --- | --- | --- |
| | March 2015 | April 2015 |
| 1 Oz. American Silver Eagle | 3,519,000 | 2,851,000 |
| 1 Oz. American Gold Eagle | 35,000 | 23,500 |
| 1/2 Oz. American Gold Eagle | 5,000 | 4,000 |
| 1/4 Oz. American Gold Eagle | 8,000 | 4,000 |
| 1/10 Oz. American Gold Eagle | 70,000 | 30,000 |
What Do the Numbers Above Mean?
What do the numbers above mean? Perhaps most importantly, while there was a decent decrease in the number of American Silver Eagles and sharp drop in 1/10-ounce American Gold Eagles, the overall production figures are still strong. This means demand for bullion coins is still robust, and that investors are still spending money on buying gold and silver coins despite the relative stagnancy in the metals markets.
In fact, except for natural, minor ebbs and flows in the bullion price and one very brief drop below $1,180 around April 24, gold largely stayed within a few dollars of the $1,200 mark for the duration of the month. Meanwhile, silver took stayed below $17 for virtually all of April, sinking below $16 during some of the third week of the month.
Are American Eagle Coins on Track to Break Records?
While American Silver Eagles saw decreased production in April than March, there's some very tantalizing math playing out so far in the sales numbers. By the end of April, 14,922,500 American Silver Eagles had been sold. Multiply that times three to arrive at a hypothetical projection of what the final tally would be for 2015 if the distribution of the silver eagle continues as it has thus far, and we arrive at 44,767,500 American Silver Eagles, which would rival production figures in 2014, when the American Silver Eagle smashed sales records.
The 1/2-ounce, 1/4-ounce, and 1/10-ounce American Gold Eagles are also on par to exceed last year's totals for those respective series. The 1/2-ounce coins stands at 29,000 pieces made so far this year, with 35,000 having been made in 2014. The 1/4-ounce gold eagle is already more than half way toward besting last year's 1/4-ounce total, with 48,000 examples made this year versus 90,000 in 2014. The 1/10-ounce gold coin has a total of 265,000 pieces sold so far in 2015, compared to 545,000 in 2014.
What's Helping Cause Bullion Prices to Behave the Way They Are?
Heading solidly into the middle of the year, things may start getting interesting. Usually, crude oil prices start increasing during the busy summer season, and oil tends to persuade the price movement of bullion. When oil prices go up, gold and silver tend to follow. If gas comes down, precious metals tend to as well.
So far this year, prices for a gallon of gas are much lower than they were a year ago, when most people were still paying more than $3 per gallon. Even though gas prices have edged upward during the spring, bubbling up above $2.40 a gallon after prices fell squarely below $2 during the late fall and early winter, gas is still relatively cheap.
What Will Happen During the Rest of 2015 2Q?
At Coin Values, we never proclaim to have a crystal ball, and there's no sense in making bold prognostications. However, it's worth reiterating that the summer oil picture could tell us a lot about where gold and silver prices will head into the summer. As things often go, the oil (and thus bullion) markets will likely soften as summer turns to fall, and it's safe to assume if that happens, gold and silver prices would follow suit.
Though bullion trading is always buzzing, many gold and silver investors have been waiting on the sidelines over the past several months, waiting to make a move if gold and silver fall or rise sharply. Many coin dealers have reported increased activity in rare coins, suggesting that some bullion investors may be putting their funds into the numismatic coin market. This could also be speculative activity related to the D. Brent Pogue Coin Collection, which Stack's Bowers Galleries and Sotheby's will be selling in seven landmark auctions beginning in May 2015.
Clearly, the coin market is dynamic, and many more than one or two factors are always at play. At this point, patience may pay off, and with gold and silver bullion prices still looking as likely to head up as they are down on any given day, the best bet is to have your investing funds ready when you feel the market is pulling away in any one direction.
By accepting you will be accessing a service provided by a third-party external to https://coinvalues.com/