Six Top Coins to Buy Now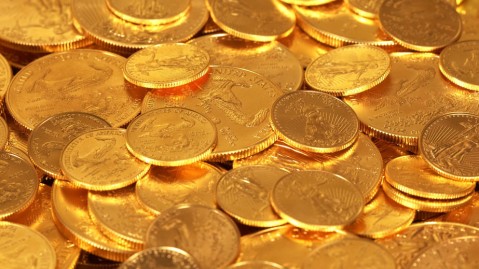 Want to buy coins but aren't sure which ones to go after? While there's no guarantee that anything you buy will go up in value, there are many coins that have performed quite well over the years and, if they keep up with long-term trends, are poised for future growth.
So, what are they? Here's a rundown…
These early copper coins, struck from 1793 through 1857, are scarce in all conditions, but they are especially difficult in uncirculated condition. In many cases, there are a fewer than 1,000 examples remaining in grades of Mint State 60 or higher. Some of the more "common" examples can be obtained for less than $250, though always buy the best example you can afford to help improve the chances of getting a better return on your money should the time come you decide to sell.
Barber Coinage in XF or Better
The Liberty Head coins ranging from the dime to half dollar and designed by Charles E. Barber in 1892 are among the most popular coins from the late Victorian period. Often dubbed "Barber" coins as a nod to their namesake designer, the Barber dimes and quarters were made until 1916, while the Barber half dollar bowed out in 1915. These are generally extremely common coins in the lower grades, but they become a little more difficult in grades of Fine or better and are quite scarce in Extremely Fine or higher. Barber dimes in the XF levels start at around $50, while Barber quarters and half dollars in a similar level come in at around $100 and $200 apiece, respectively.
Washington quarters aren't scarce coins in the general sense, but they are hot! They've enjoyed strong interest by numismatists and non-numismatists alike on a fairly regular basis since 1999, when the 50 State Quarters program was launched. Since then, the Washington quarter has hosted designs from several other series, including the D.C. & Territorial program in 2009, and the America The Beautiful designs since 2010. The America The Beautiful series is slated to end in 2021, and many collectors wonder what will happen after that. Some believe the America The Beautiful program will repeat after 2021 with new designs. Whatever happens, the quarter is poised to enjoy some more time in the spotlight, and this can only help push up values for issues across the entire series spanning back to its start in 1932.
While the first run of the America The Beautiful Quarters program will be signing off in 2021, another popular coin will be in the spotlight that year, too. That coin is the Peace dollar, which ran from 1921 through 1935 and will celebrate its centennial in 2021. While a push is out to get the U.S. Mint to strike commemorative silver dollars in 2021 honoring the 100th birthday of one of the most popular coins ever made, there's no doubt more collectors will find this coin in 2021 – putting upward pressure on values across the series. Common examples can be bought for $25 to $50 each in better grades, while the 1921 and 1928 regular-issue key dates start at around $125 and $250 each, respectively.
Any Pre-1933 $20 Gold Double Eagles
America's $20 gold double eagles, struck from 1849 through 1933 to serve as the nation's highest-denomination circulating coins, have long been a favorite numismatic collectible for those with deep pockets. The values of these coins are largely dictated by the prevailing winds of the bullion markets and are more or less closely tied in base value to the price of gold. For years, these coins have held strong numismatic premiums over the spot price of gold, but that has changed in more recent times as a glut of these coins have come onto the market from overseas. Now, one can obtain $20 gold double eagles in circulated and low-end uncirculated grades for barely above melt, making many of them cheaper to buy than American Gold Eagle bullion coins. The difference between these and American Gold Eagles? Pre-1933 gold coins are much rarer and have a huge collector base, giving these pieces excellent crossover appeal and virtually ensuring they'll sell like hotcakes when you decide to liquidate.
Classic Commemorative Coins
The United States Mint began striking commemorative coins in 1892 and for nearly 60 years continued making them to honor various people, places, and events. The U.S. commemorative coins struck from 1892 through 1954 include a colorful variety of topics ranging from the anniversaries of Delaware and the Battle of Antietam to Christopher Columbus and George Washington Carver. In the late 1980s, classic commemorative coins in uncirculated grades were hot commodities, many selling for four- and even five-digit prices. Interest in this series of coins waned in the 1990s and 2000s to the point that there was more supply than demand. Today, some classic commems are selling for less than 15% of their 1989 prices. But this series is poised for a rebound should interest in these beautiful, scarce, diverse coins take off again. Many can be bought for less than $100 each!
About the author
Joshua McMorrow-Hernandez is a freelance writer and author who has contributed hundreds of online articles and blog posts, as well as published Images of America, Tampa's Carrollwood (Arcadia Publishing, 2013). Joshua is interested in a wide array of topics, and since 1992 has been heavily involved in numismatics, a topic about which he loves to research and write. His main area of focus is 19th and 20th century United States coins, but he also enjoys Canadian coins.