Top 25 Sales of Standing Liberty Quarters October 2014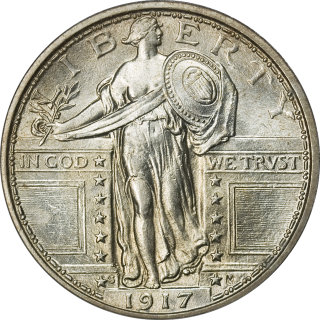 The Standing Liberty quarter, designed by Hermon A. MacNeil and produced from 1916 through 1930, was the design immediately preceding the Washington quarter and remains a popular collectible today. The Standing Liberty quarter had a relatively short production run yet presents numerous challenges to collectors. Most notably, it has three distinct design types: Type I quarters show Miss Liberty's exposed right breast, Type II quarters depict a fully clothed Miss Liberty and a slightly redesigned reverse, and the third type of quarter has a recessed date.
The scarcest Standing Liberty quarter is the 1916, which is also a first-year type coin. The 1921 and 1927-S quarters are also very scarce and are well represented in this list of the Top 25 most expensive Standing Liberty quarters sold on eBay in October 2014:
1916 PCGS F 15 $7,250.00 – The 1916 Standing Liberty quarter is by the scarcest quarter in the series, with only 52,000 pieces minted. Of course, far fewer than the original mintage output survive to this day, and the high price of even this Fine specimen helps to illustrate how sought after this coin is.
1916 ANACS AG 3 $1,950.00 – Few 20th-century coins are seriously purchased by numismatists in anything lower than Good-4, but the 1916 Standing Liberty is a major exception. Even in AG-3, it still has a buyer at nearly two grand.
1917 Type I PCGS MS 66 CAC Full Head $1,929.00 – Full head Standing Liberty quarters are very difficult to locate, which is why the "fully struck head" or "FH" quarters are so highly prized by coin collectors.
1920-D PCGS MS 64 $1,510.30 – Pre-1925 Standing Liberty quarters are generally much scarcer than the latter pieces. So, issues such as this 1920-D are considerably attractive to coin collectors in any grade. They are true treasures in uncirculated grades.
1923-S AU $1,450.00 – Even "raw," such as this uncertified specimen, pre-1925 Standing Liberty quarters make terrific purchases.
1927-S PCGS XF 45 $1,400.00 key date – The 1927-S is the second-lowest mintage in the series, at 396,000, but perhaps less than 10,000 survive. This rare coin, which saw extensive circulation, mainly survives in grades under Very Good 8.
1926-S PCGS MS 63 $1,249.00 – This tough date is particularly scarce in the uncirculated grades. An MS 63-graded coin, this Standing Liberty beauty is a real treasure.
1921 PCGS AU 53 $1,200.00 – 1921 is a semi-key date for the series and difficult to find in the upper grades. Any 1921 in About Uncirculated makes a great purchase.
1921 ANACS AU 58 $1,125.00 – Another 1921 that ANACS scored a few ticks higher than the #8 coin, but bear in mind generally has a reputation for conservative grading techniques.
1917-D Type I NGC MS 65 Full Head $992.00 – The Top 10 portion of this list is rounded out with a 1917 Type I coin that scored a terrific Full Head designation, something every Standing Quarter enthusiast vies for.
The rest of this Top 25 list includes something for everyone, including uncirculated Type I quarters, some scarce circulated material, and a couple gem grade "common" dates. Here's the remainder of the Top 25 Standing Liberty quarter list:
1919-S NGC AU 53 $962.00
1930 PCGS MS 66 Full Head $955.00
1917-D Type I PCGS MS 65 Full Head $953.00
1921 AU Cleaned $900.00
1919-D PCGS AU 53 $895.00
1927-S VF/XF $890.00 rare key date
1927-S NGC AU $861.89
1928-S NGC MS 66+ CAC $850.00
1919-D PCGS AU 58 $833.00 very tough
1924-S PCGS MS 62 $825.00
1926-S PCGS MS 62 $787.00
1930-S PCGS MS 66 $785.00
1917 Type I PCGS MS 65 Full Head $761.00
1921 Ungraded $751.00
1917 Type I PCGS MS 64 Full Head $725.00
By accepting you will be accessing a service provided by a third-party external to https://coinvalues.com/