eBay's Top 25 Walking Liberty Half Dollar Prices for November 2014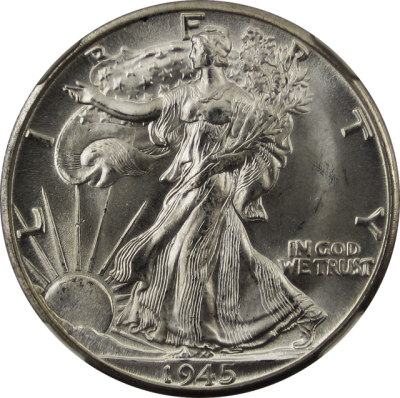 The Top 25 most expensive Walking Liberty half dollars from November 2014 show a surprising mixture of dates for the month, including several early dates, multiple key coins, and even numerous high-end proof and uncirculated specimens. The top coin for the month sold for more than $9,000, while the least expensive of the Walking Liberty half dollars sold in November 2014 traded hands for $835 – so, there's quite a spread in price among the coins we'll look at here.
It's no surprise that Walking Liberty half dollars receive attention from a wide segment of the coin collecting world, as these coins have long been considered as one of the most beautiful silver coins the U.S. has ever produced. Combine that with the fact that they are a popular coin type to collect by date and mintmark, and these coins show themselves as true winners in both the numismatic and investment senses.
Here's a look at the Top 25 Walking Liberty half dollars sold in November 2014 on eBay:
1921-S NGC AU 55, $9,500.00 – With a mintage of 548,000, this coin is a scarce issue and is highly sought after by coin collectors in any grade. It's especially difficult as the grade approaches Mint State. In fact, a 1921-S Walking Liberty half dollar in MS 60 cots roughly $18,000.
1921-D AU, $3.950.00 – All 1921-dated Walking Liberty half dollars are scarce, and the 1921-D actually has a lower mintage than the 1921-S (the D-mint piece was struck to the tune of just 208,000 pieces). However, the Denver-mint coin isn't quite as scarce or costly in AU as the 1921-S is.
1935-S PCGS MS 66, $3,825.00 – With 3,854,000 pieces originally struck, the 1935-S is considered a common coin for all intents and purposes. However, like most coins from this era, the 1935-S is exceedingly rare in the upper Mint State grades. In MS 66, the coin is truly exquisite.
1919 Full Head MS, $3,000.00 – This uncertified 1919 Walking Liberty half dollar boasts incredible detail and nice surfaces, too. At $3,000, this piece may have cost the buyer more than a typical MS 60 specimen (which catalogs at about $1,300), but is much less than the $7,500 price tag for an MS 65 piece.
1934-S PCGS MS 65, $2,700.00 – At only $2,700, this PCGS-graded 1934-S Walking Liberty half dollar looks to be a great deal especially given that its catalog price is closer to $3,500. Any Walking Liberty half dollar grading above MS 64 is a good buy. What's more, they are incredibly handsome pieces in the middle and upper uncirculated grades.
1923-S PCGS MS 62, $2,500.00 – All pre-1934 Walking Liberty half dollars in uncirculated grades are scarce and valuable, and this early 1920s S-mint piece takes the cake. The fact that it's graded by PCGS – one of the most prestigious coin authentication firms around – makes this a home-run buy.
1936 PCGS Proof 65, $2,469.00 – It doesn't seem like proof Walking Liberty half dollars turn up very often in these Top 25 lists. That fact may owe to the relative scarceness of these pieces, which were saw very low mintages. A Proof 65 specimen is quite rare, since many of these early proof coins were wrapped in paper (which has been known to oxidize these proof coins) and weren't handled very well.
1937 NGC CAC Proof 67, $2,395.00 – Here's a blazing beauty. This 1937 proof Walking Liberty half dollar not only received an incredible PF 67 grade, but it also scored a CAC designation, meaning the coin has exceptional eye appeal for the condition that it's in.
1938-D PCGS MS 66, $2,205.00 – The 1938-D Walking Liberty half dollar is considered a semi-key coin and is sought after in virtually any grade. The impressive MS 66 grade and PCGS certification are both huge assets for this scarce coin.
1921-D XF, $1,582.00 – Perhaps if this scarce coin were certified, it would have notched a far higher price than this. After all 1921-D half dollars in XF usually trade closer to the $2,500 range. But assuming the grading checks out, this coin was a bargain for whomever bought it.
The Rest of eBay's Top 25 Most Expensive Walking Liberty Half Dollars in November 2014
Rounding out this Top 25 most expensive Walking Liberty half dollar list are a motley crew of circulated, Mint State, and proof Walkers representing both scarce and common dates. Interestingly, the vast majority of the certified pieces below are PCGS coins, perhaps inflating the final price for each of those listings by an additional 5 to 8 percent over what they would have otherwise fetched.
11. 1939-D PCGS MS 65 - $1,525.00
12. 1921-D NGC VF 25 - $1,395.00
13. 1916-S PCGS AU 58 - $1,381.00
14. 1938-D PCGS MS 65 $1,295.00
15. 1921 XF $1,220.00
16. 1920-S PCGS CAC AU 55 - $1,095.00
17. 1918 PCGS MS 64 - $1.092.00
18. 1941-S PCGS MS 66 - $1,016.00
19. 1927-S MS (raw) - $985.00
20. 1917 PCGS MS 65 - $969.00
21. 1916-S Gem BU Toned - $949.00
22. 1919-S XF/AU $895.00
23. 1937-S PCGS MS 66 $889.00
24. 1937 Proof - $850.00
25. 1917 PCGS MS 65 - $835.00
About the author
Joshua McMorrow-Hernandez is a freelance writer and author who has contributed hundreds of online articles and blog posts, as well as published Images of America, Tampa's Carrollwood (Arcadia Publishing, 2013). Joshua is interested in a wide array of topics, and since 1992 has been heavily involved in numismatics, a topic about which he loves to research and write. His main area of focus is 19th and 20th century United States coins, but he also enjoys Canadian coins.