Bullion Coin Sales Sink in February 2015 as U.S. Mint Sells Fewer Coins Than in Previous Month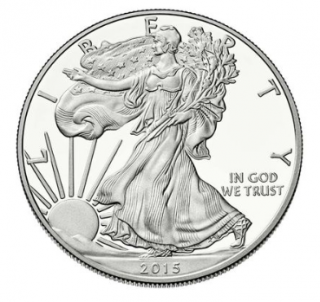 As February, the shortest month of 2015, wraps up, the latest bullion figures indicate smaller American Silver and Gold Eagle coin monthly totals than would be expected for a calendar shortfall of just two or three days. January is normally a month of strong output by the U.S. Mint, as early demand for coins bearing the new date of "2015" is met and minting gears up for the year. However, bullion prices have also been somewhat stagnant over the course of February 2015, which may in part owe to the languid production of new American Silver and Gold Eagles as of late.
Below is a look at the production of American Silver Eagles and American Gold Eagles in February 2015 (right) compared to the distribution of those same bullion coins during the previous month.
| | | |
| --- | --- | --- |
| | January 2015 | February 2015 |
| 1 Oz. American Silver Eagle | 5,530,000 | 3,022,000 |
| 1 Oz. American Gold Eagle | 51,500 | 12,500 |
| 1/2 Oz. American Gold Eagle | 18,000 | 2,000 |
| 1/4 Oz. American Gold Eagle | 36,000 | 0 |
| 1/10 Oz. American Gold Eagle | 115,000 | 50,000 |

Why Did Bullion Coin Production Fall In February 2015?
What stands our right away are the markedly lower production figures in February across the board, particularly for the American gold eagles. Figures for most of the American Gold Eagle series represent only mere fractions of their January sales totals. No 1/4-ounce American Gold Eagles were made at all.
Even the wildly popular American Silver Eagle, which in January 2015 saw one of the highest single-month sales tallies ever, sank to a much more "ordinary" figure of right around 3 million.
What do we owe to the significantly lower February 2015 bullion sales numbers? If you take a look at the fluctuating silver and gold bullion prices of 2014 and early 2015, the numbers can help tell the story.
Silver & Gold Prices During 2014 4Q and 2015 1Q
In January, silver prices bounced from a low of $15.79 on the first day of the month to $18.43 on January 22. Clearly, depressed silver prices during the first period of January drove many people to buy silver eagles while their value was still low. Climbing bullion values would have persuaded investors to snap up silver eagles before prices escalated beyond a certain price threshold (perhaps $20 in the case of silver). The price movement in the previous month certainly helps to explain why more than 5.5 million American Silver Eagles rolled off the presses in January.
Similar movement in gold bullion values was also seen in January, when 220,500 American Gold Eagles were struck. Gold prices started the year at $1,186.50 per ounce but skyrocketed to $1,303.10 on January 22 – a move that prompted many bullion investors to sink their collective teeth into gold before it became too expensive for their tastes.
What both gold and silver prices have both done over the course of February 2015 is sink down to averages that look more like those of late November and December. This has caused many investors to wait on the sidelines and see what happens to the bullion market before making a decisive move.
Thus, buying activity has tapered off and so, too, in response, has bullion coin production at the U.S. Mint. The minting facility can adjust the output and distribution of its bullion coinage based on the prevailing market conditions. For example, in early October 2014, when an American Silver Eagle buying frenzy picked up amid falling bullion prices, the U.S. Mint sold more than 1.15 million silver eagles on a single day, breaking records. The following month, an American Silver Eagle sellout occurred when silver bullion prices dipped lower.
Looking Ahead at Silver & Gold American Eagles
Moving forward into spring, it will be interesting to watch what happens to oil prices, which typically provide insight on where bullion metal prices. Oil prices usually move up during the spring, a phenomena that motorists are already witnessing at the pump.
As of this writing, a gallon of gas in Bakersfield, California, cost $2.76 a gallon. A week earlier, it was $2.64. Similar price increases are occurring elsewhere around the United States.
The current gas price increases are largely due to refinery impacts, but the inevitable price increases of the summer are just around the corner. Certainly, the upward pressure on gas, even if only cyclical, may portend coming increases for gold and silver prices. Will bullion prices make a solid move in March? Bullion investors are waiting, willing, and ready to buy or sell once bullion prices start taking a steady turn.
By accepting you will be accessing a service provided by a third-party external to https://coinvalues.com/