Copper-Nickel Clad Coins Become Hot Items at Auction: A Conversation with Clad Coin Expert Mitchell Spivack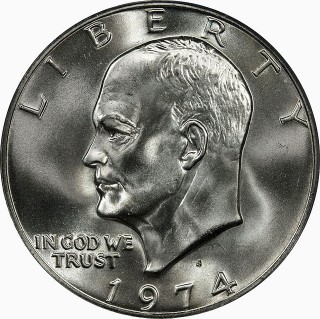 On their 50th anniversary year, copper-nickel clad coins are receiving some much-deserved attention. I'm personally happy to see this, as copper-nickel clad coins offer many exciting collecting opportunities and even have a few scarce issues that are well worth collecting. These include the 1982 no-P Roosevelt dime, 1982 and 1983 Washington quarters, 1982 no-FG Kennedy half dollar, and all dates of the Eisenhower dollars, which are worth more than face value even in worn grades these days.
Also on top of this list of valuable copper-nickel clad coins are pristine Mint State specimens, many of which pull in big bucks at auction. Why are some of these high-end uncirculated and proof clad coins so expensive nowadays? Because few were ever preserved in pristine uncirculated condition, and are much scarcer than many collectors would tend to believe.
I had the opportunity to speak with Mitchell Spivack, owner of Wondercoins.com and a well-noted dealer in copper-nickel clad coins. He took a few minutes to answer some questions about why the copper-nickel clad coin market is really taking off and what coins we should be expecting to see perform well and in the comig years.
Q. [Me] What can you say about the clad coins hitting the big auctions lately? Which pieces are you most excited about and how have they performed when they crossed the auction block?
A. [Mitchell Spivack] There have been many interesting clad coins hitting the big auctions in recent times. For example, at the Heritage Central States sale a few months ago, a PCGS-PR70DCAM 1976-S Type II clad Ike [Eisenhower dollar] appeared in their "Platinum Night" auction session typically reserved for the very best classic coins offered in the entire sale. Indeed, the auctioneer took notice of the Ike dollar and commented on the coin from the podium before completing the auctioning process on the specimen. And speaking of Heritage auctions, their June Long Beach sale going off this week also has a number of seldom seem "low pop" clad offerings in the sale. For example, there is a 1974-S clad Ike dollar grading PCGS-PR70DCAM, which I personally consigned to the auction at no reserve (full disclosure). PCGS has graded just six clad coins in this grade for the Ike date since they opened their doors for business as compared to more than 15,000 examples in lower grades for the date. It should be very interesting to see what this clad coin fetches at public auction later this week with the format of no reserve.
Q. Are there certain clad coins that collectors should be keeping an eye on these days? Are there any "sleepers" out there that are bound to gain more attention in the coming years?
A. Super high-grade, business-strike clad coins dated 1965-date I would encourage all collectors to be on the lookout for. And, on top of that, many of the proof clads from 1971-1986 are worth keeping an eye out for these days as well. One area that is often overlooked is the high-grade "S" Mint National Park quarters from the past few years. These coins have remarkably low mintages (sub-1,500,000) and are exceedingly difficult to locate in grades above MS67. And, as I have said before, finding "monster deep cameo" proofs from the early to mid 1970s are a potential "sleeper" area as well. The coins cost next to nothing to cherrypick and can potentially trade for more than $100 per coin already.
Q. Do you think we're in the midst of a clad coin renaissance of sorts, where high-end clad coinage is finally getting more respect from more coin collectors in general?
A. I would say yes, but we still have a long way to go. But, when coins such as the two clad Ike dollar PR70DCAM coins I previously mentioned get strong exposure at an auction venue such as Heritage, many more people will likely take notice even faster.
Q. Is there anything else you wish to add about the topic of high-end clad coins being featured in major auctions?
A. I would just conclude by saying as the popularity grows for these high-end clad coins, I would not be surprised if more and more of these coins continue to appear in the major auctions being conducted by the major auction houses.
By accepting you will be accessing a service provided by a third-party external to https://coinvalues.com/