Top 25 eBay Sales of Walking Liberty Half Dollars October 2014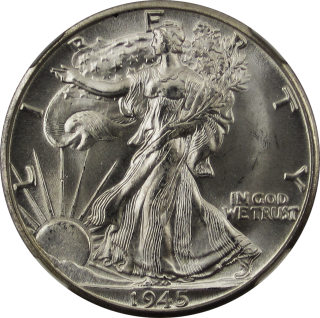 The Walking Liberty half dollar, designed by Adolph A. Weinman, is commonly considered the most beautiful silver coin ever made by the United States Mint. It's also a beloved collectible coin and a popular series on eBay, where thousands of circulated and high-end specimens are commonly traded each month. A look at the October 2014 eBay sales data shows more than a dozen Walking Liberty half dollars sold for more than $1,500, and all of the Top 25 most expensive specimens sold for $985 or more.
Here's a rundown of the Top 25 most expensive Walking Liberty half dollar sold on eBay in October 2014:
1919 NGC MS 64 CAC $4,995.00 – We start this list out with a blast-white specimen from 1919 that also managed to snag the elusive CAC designation, indicating this piece is superior for its grade.
1935-S PCGS MS 66 $4,217.50 – This is the first of several Walking Liberty half dollars grading Mint State 66 or better on this list. Premium-quality Walking halves like this one will always find a home, and quickly.
1937-D PCGS MS 65 $4,011.00 – MS 65 Walking Liberty half dollars have been an attractive investor coin since at least the 1980s, when this material was climbing in value. Today, these pieces still make gorgeous acquisitions for numismatists or die-hard investors alike.
1933-S PCGS MS 66 $3,901.00 – As any Walking Liberty half dollar enthusiast will say, all pre-1934 issues are difficult in the better grades, which are generally defined as Extremely Fine or better. So, a 1933-S with an excellent MS 66 grade, like this one, is a terrific find.
1927-S PCGS MS 64 $3,849.00 – Earlier S-mint Walking Liberty half dollars are scarce in the higher grades simply because relatively few of these coins were saved by collectors on. For that reason, this 1927-S Walking Liberty half dollar in MS 64 is a definite winner.
1934-S PCGS MS 65 $2,901.00 – Mint State 65 Walking Liberty half dollars are truly beautiful, and this 1934-S is no exception.
1935 PCGS MS 66+ CAC $1,979.99 – When investors look to uncirculated Walking Liberty half dollars dating from 1934 or later, they are generally most interested in the MS 65 or better specimens, such as this piece.
1937 PCGS MS 67 CAC $1,850.00 – This supreme MS 67 half dollar is typical of the high-end 1934-and-later specimens that are available, if only in limited quantities. In fact, these high-grade specimens are collectively one of the main areas of activity for investors in the latter-date Walking Liberty half dollars.
1920-D PCGS AU 55 $1,837.50 – This "raw," or uncertified 1920-D Walking Liberty half dollar is symbolic of the scarce nature of these early-date issues. Most Walking Liberty half dollars dating prior to 1934 and grading XF or above are, by most measures, very scarce coins.
1939-S PCGS MS 67 $1,827.00 – The Top 10 segment of this list is rounded out with a premium-quality piece that scores in the eye appeal department for its off-the-charts white surfaces and handsome overall strike and appearance.
The remainder of the Top 25 list of Walking Liberty half dollars includes several uncirculated specimens, a handful of scarce circulated issues, and even a gorgeous proof specimen. So, all told, the Top 25 most expensive Walking Liberty half dollars include something for everyone this month.
1941-S NGC MS 66 CAC $1,699.99
1941 NGC Proof 67 $1,599.99
1941 PCGS MS 67+ CAC $1,550.00
1940-S PCGS MS 66 CAC $1,495.00
1919-D ANACS AU 50 $1,400.00
1921-D "raw" XF $1,400.00
1916-S "raw" Uncirculated $1,320.00
1938-D PCGS MS 65 $1,295.00
1921 ANACS EF 45 Details $1,288.00
1934-D PCGS MS 65 CAC $1,277.50
1917-S Obverse mintmark AU/Unc $1,200.00
1920 NGC MS 64 $1,090.00
1921-S PCGS VF 30 $1,075.00
1928-S ANACS MS 61 $1,000.00
1927-S "raw" Uncirculated $985.00
By accepting you will be accessing a service provided by a third-party external to https://coinvalues.com/