2014 A Record Year for American Silver Eagle Coins: Year-End Bullion Sales Totals for American Gold & Silver Eagles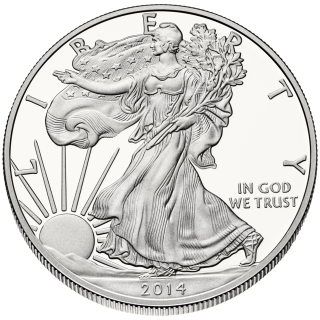 American silver and gold eagle coins were flying high in 2014, and as the crystal ball dropped in New York City's Times Square, we wrapped up what was a very busy year for the precious metal market. As far as the silver and gold bullion scene is concerned, we can easily divide the first and second halves of the year by the metals prices. Gold prices bounced between roughly $1,250 and $1,400 from January through early July, and then started showing weakness after that point. Right around the end of October and into November, the bottom fell out, and gold briefly dipped into the $1,120s.
Silver, meanwhile, showed a similar trend during the year. Early in February 2014, silver was climbing past the $20 mark and certainly looked to some like it was heading up past the $25 price point. Prices cooled off into the spring but heated up early in the summer. However, similar to gold prices, silver began edging downward in July and continued its southward descent right through October. Since early November, silver prices seemed to have somewhat stabilized after appearing to hit bottom just after Halloween. At one point, silver traded just below $15 an ounce.
What these numbers have translated to is an active bullion market for buyers, who snapped up American silver eagle and American gold eagle coins in huge numbers this year. In fact, it was a record year for American silver eagles, as will be discussed in greater detail momentarily. Here are the unofficial final sales numbers in 2014 for American silver and gold eagles:
| | | |
| --- | --- | --- |
| | 2013 | 2014 |
| 1 Oz. American Silver Eagle | 42,675,000 | 44,006,000 |
| 1 Oz. American Gold Eagle | 743,500 | 415,500 |
| 1/2 Oz. American Gold Eagle | 58,000 | 46,000 |
| 1/4 Oz. American Gold Eagle | 122,000 | 118,000 |
| 1/10 Oz. American Gold Eagle | 535,000 | 565,000 |
While American gold eagles, in general, have seen years with higher sales figures, the American silver eagle program had a record year in terms of year-end sales. A significant chunk of the 2014 silver eagle sales occurred during the last months of the year, when more than one million silver eagle coins were being distributed almost every week. In fact, the U.S. Mint sold 1.15 million silver eagles in just one day early in October, and a sellout occurred in November. By the end of 2014, the U.S. Mint had sold more than 400,000,000 silver eagles since the beginning of the American eagle program in 1986, with sales from the last seven years accounting for more than 60% of that total.
What is 2015 going to be like for American silver and gold eagle coins? We shall find out soon. The U.S. Mint will begin accepting orders for 2015-dated American silver eagles on January 12, and the same will happen for American gold eagle coins on January 20.
By accepting you will be accessing a service provided by a third-party external to https://coinvalues.com/