How To Collect Pre-1933 Gold Coins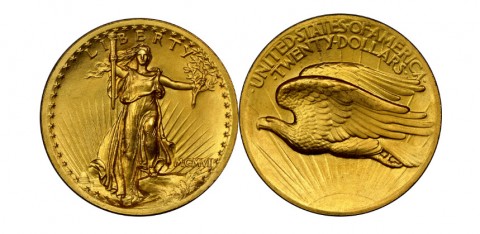 Gold coins have always had a special allure as a store of value and hedge against currency depreciation and because of their beauty. And in times of economic crisis like today, they also serve as a safe haven and asset diversifier, especially at a time when equity market volatility remains heightened.
Buyers and collectors of gold coins have a basic choice between classic U.S. gold coins widely known as Pre-1933 US Gold Coins that circulated in the United States until that year, and modern bullion coins with the most widely traded coins being American Gold Eagles, which are issued in business, uncirculated and proof finishes.
Each type of US Gold Coin has its own advantages compared to the other. Modern American Gold Eagles are often favored by those mainly looking to "stack" gold bullion because they contain exactly one ounce of gold. It is also easier to grasp the basics of those coins compared to classic coins that require more knowledge.
Pre-1933 gold, on the other hand, which typically means generic coins, or more common date issues, has long been favored for its classic beauty, numismatic and historic value and liquidity, not to mention the satisfaction that comes from learning about their history and imagining them being used as currency.
$20 Gold Double Eagles are especially popular because of their large size and gold content of close to one ounce, especially the Saint-Gaudens $20 Gold Coins that have long been considered to have the most beautiful design of any U.S. coin. And that is why the same obverse design of those coins was reprised for the American Gold Eagle in 1986.
Premiums Over Spot
Premiums over spot gold value for Pre-1933 US Gold Coins over most of the past decade remained historically very low for two reasons. One was the shift towards modern gold bullion coins by many buyers, which has led to them being collected too. The other is the fact that large hoards of the coins that had been stored in Europe since 1933, when it became illegal to own more than $100 in gold coins, have been repatriated back to the U.S.
Those premiums have begun to rise recently as much of this hoard has by now been dispersed into the U.S. market and even more so because of the explosion of demand for physical gold bullion during the current pandemic with many mints shuttered or working at reduced capacity, creating a major supply crunch.
Yet, the premiums on modern bullion have in comparison risen even more than those on Pre-1933 Gold, making the latter coins especially attractive options today. Many rare coin collectors simply buy gold coins when they find a $10 Indian Gold Coin or a Saint-Gaudens $20 Gold Coin close to its melt value. This is a more difficult task for lower denomination coins like $5 Indians or the Liberty Head $2.5 Gold Coin.
Pre-1933 Gold Type Sets
There are numerous ways to collect Pre-1933 US Gold Coins, such as building complete date sets or date and mintmark sets of a particular denomination or design type. However, that is beyond the reach of most collectors for most series. Probably, the most popular way to collect these gorgeous gold coins is to build one of several possible type sets.
In general, more common dates of the larger Pre-1933 gold coins sell for smaller premiums over their gold value with the smaller pieces commanding more of a premium over the spot value of gold. For this reason, the most popular types of sets are the four and eight-coin sets. These include the four key denominations, $20 Double Eagles, $10 Eagles, $5 Half Eagles and $2.50 Quarter Eagles of two main design types – the Liberty Head and Indian Head.
Four and eight-coin type sets of ungraded gold coins are often stored in Lucite holders made for many years by Capital Plastics that have spaces for each coin and are very inexpensive. For those who want professionally graded examples of each coin, which are best purchased in holders from either PCGS or NGC, there are wood display boxes designed to hold graded gold type sets.
With common-date pre-1933 Gold Coins, graded examples, especially of the $20 Gold coins, are not that much more expensive than raw coins. The lower denominations, especially the $2.50 and $5 gold coins have historically carried larger premiums especially in nice uncirculated grades, but they are much less expensive today than they were say 20 or 30 years ago.
Another great advantage to building a Pre-1933 Gold Type Set is that you can start out with a less expensive option like a raw set, or a graded set of MS62 coins, and over time the coins can be upgraded as your budget permits. You may also over time, want to sell your more common-date examples and replace them with scarcer dates.
If you do opt to purchase raw coins, be sure to purchase from a reputable dealer such as Bullion Shark because the number of counterfeit coins in the market has been increasing in recent years. Coins graded by PCGS and NGC come with a guarantee of authenticity, so many coin collectors opt to go with certified options. A 1880-S $20 Gold Liberty PCGS MS61 CAC can be seen in the photo below.
Other Type Sets
If you have a little more money to put into the endeavor, you can build a more complete version: the twelve-coin set which also includes the three $1 gold coins, including the Liberty Head and Small and Large Indian Head coins and the $3 gold Indian Princess.Keep in mind that the $3 coins are the most expensive with even an average grade example running around $1,000, whereas the $1 coins (except for the Small Head Indian piece, which is also more expensive) can be obtained for much less unless you need a high-grade specimen.
If you are particularly drawn to one specific denomination, you may want to build say a type set of $20 Gold Pieces with a basic set consisting of three Liberty Head coins (Type 1 no motto with denomination as "Twenty D.," Type 2 with motto and the denomination also as "Twenty D." and Type 3 with motto and "Twenty Dollars" as the denomination) and two Saint-Gaudens issue (with and without motto). If you budget permits, you can add a High Relief coin from 1907. In the case of this set, you will probably want to purchase graded coins in as high a grade as possible, which would be a stunning set of rare coins.
Some collectors don't have a rhyme or reason to their collecting and just buy when they find a $10 Indian Gold Coin or a Saint-Gaudens $20 Gold Coin close to its melt value.
No matter what approach you chose, a gold type set is a fun and rewarding way to acquire Pre-1933 gold coins and to build a collection that will always have substantial intrinsic value as well as numismatic and historic value.
About the author
Bullion Shark
is a rare coin and precious metal dealer, who specializes in precious metal analysis, news and information. With an in-house editorial team of experienced bullion and rare coin dealers, you can be assured you will be reading only premium content. Feel free to request a post on a topic you wish to further increase your knowledge on. Check out our
Bullion Shark Blog
for even more news and analysis!