American Silver & Gold Eagle Coin Sales on Record Pace at United State Mint in March 2015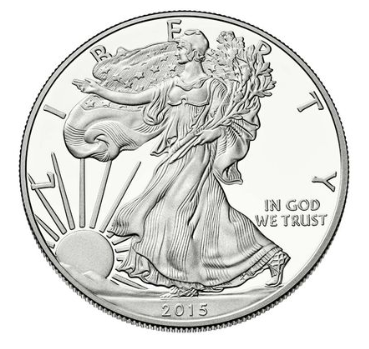 The U.S. Mint increased up distribution figures of American Silver and Gold Eagle bullion coins and, with the third month of 2015 behind us, looks to be on track for a banner year if sales continue at their current pace. Coming off sluggish gold coin sales in February, all four American Gold Eagle coins were strong in March. Meanwhile, American Silver Eagles, which had a robust sales numbers in February, saw improved distribution figures in March.
What's important to note with these figures is a minor slide in silver and gold bullion prices. From March 7 to March 19, 2015, silver prices were under $16 per ounce, dipping under $15.50 for brief periods. For a week, from March 11 through March 18, gold prices stayed under $1,160.00 an ounce. Likely, investors pounced on bullion metals during the second and third week of March, largely driving up bullion coins sales for that period.
The increased sales are clearly illustrated in the chart below comparing sales of American Silver and Gold Eagles in February and March 2015:
| | | |
| --- | --- | --- |
| | February 2015 | March 2015 |
| 1 Oz. American Silver Eagle | 3,022,000 | 3,519,000 |
| 1 Oz. American Gold Eagle | 12,500 | 35,000 |
| 1/2 Oz. American Gold Eagle | 2,000 | 5,000 |
| 1/4 Oz. American Gold Eagle | 0 | 8,000 |
| 1/10 Oz. American Gold Eagle | 50,000 | 70,000 |
Records To Be Made in 2015?
With more than 44 million American Silver Eagles sold in 2014, including one day during which more than 1 million American Silver Eagles rolled off the presses, the United States Mint is presently poised to once again make headlines with bullion coin sales. At this point, the United States Mint has sold 12,071,000 American Silver Eagles in 2015. If those numbers are broken down into monthly averages for the first quarter of 2015, that comes to an average of roughly 4,023,000 American Silver Eagles per month. If those figures are extrapolated into a yearly total, that number would come to approximately 48 million American Silver Eagles for 2015 – beating by a decent margin the 44 million American Silver Eagles sold in 2014.
On the American Gold Eagle side, the sales figures for March 2015 are strong. However, there isn't yet a trend suggesting records will be broken for any of the gold bullion coin denominations this year. Certainly, as the year continues to play out, we could see bullion prices take a further tumble or increase dramatically, spurring a flurry of sales activity in either case.
Driving Force Behind Bullion Prices in 2015
Perhaps diehard investors should pay close attention to the oil market in 2015. As many investors know, the direction oil prices head is usually one strong indicator of where gold and silver bullion prices go. Earlier in the year we saw multi-year record low prices at the pump. With oil prices remaining largely sluggish as compared to barrel prices in recent years, it's no surprise that bullion has also been fairly stagnant.
While the price of gas per gallon has ticked upward in recent weeks, that price movement has been tied to refinery issues – most notably the first nationwide refinery worker strike since 1980.
Meanwhile, many bullion investors have been sitting on the sidelines as they wait out the stale silver and gold prices. Many individuals are investing in other markets, though a fairly large number have actually shown more than a passing interest in collectible coins. This is helping to elevate coin values for several numismatic pieces, including high-end key date coins and, most notably, trophy coins.
A 1792 Birch Cent sold for more than $2 million at a coin auction in January. In May, coin collectors look forward to the first of several sales involving the famous D. Brent Pogue coin collection. A few of the rare coins that will hit the auction block include the elusive 1822 $5 gold half eagle coin and the popular 1804 Draped Bust silver dollar, a piece that has long been dubbed the King of American Coins.
What's To Come For Bullion Coins in 2015?
With March 2015 now a memory, we look ahead toward the next three quarters of the year. Certainly there's plenty of time for significant, market-altering events to occur this year and further drive bullion prices up or down and – consequently – sales of American Gold and Silver Eagles.
Investors should remain on standby and ready to drop cash on bullion coins should the markets begin to show signs of major movement. Meanwhile, the United States Mint continues turning out huge numbers of American Silver and Gold Eagles and will do everything they can to prevent another sellout, as had happened in November 2014. What does April 2015 have in store? We shall soon see.
About the author
Joshua McMorrow-Hernandez is a freelance writer and author who has contributed hundreds of online articles and blog posts, as well as published Images of America, Tampa's Carrollwood (Arcadia Publishing, 2013). Joshua is interested in a wide array of topics, and since 1992 has been heavily involved in numismatics, a topic about which he loves to research and write. His main area of focus is 19th and 20th century United States coins, but he also enjoys Canadian coins.